Learn About Lawrence Landscape
About Us
Lawrence Landscape, Inc. provides superior landscape services in the city of Lawrence, Kansas and the surrounding area by using the highest quality products, the latest technology and the best people available in the marketplace today. We are engaged in a process of continuous improvement through research, training and introspection. Some of the many services we provide for residential and commercial properties include Landscape Design, Installation and Maintenance, Sprinkler System Installation and Maintenance, and Swimming Pool Installation and Maintenance.
In the early 1980's, Glen Westervelt had a vision to create a customer oriented landscape service company that would provide quality service and products at a fair price to the residents of Lawrence and the surrounding areas. In 1987 that vision became a reality when he created Lawrence Landscape. That vision became even more obtainable when Frank Male became a partner later that same year. The business was incorporated in 1988. Today, Lawrence Landscape is the largest and most experienced landscape company in the region.
As Lawrence Landscape has grown over the past 30 years, it has generated an entire family of companies to include Midwest Custom Pools (specializing in custom concrete and fiberglass pool construction) and LLI Tree Farm, Inc. (specializing in locally grown plants, and bulk landscape materials). Due to high demand for quality products, a retail center at the tree farm opened to the public in 2011.
Because of Glen and Frank's vision to create a full-service, customer-oriented business, they have attracted numerous individuals to the Lawrence Landscape team who are leaders in the areas of design, construction, maintenance, and plant health and production.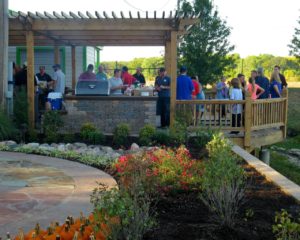 Who We Are
Our Mission
To develop long-term relationships with our clients by providing complete and exceptional landscape services that enhance the beauty of their properties.
---
Landscape Awards, Certifications, & Associations
Best of Lawrence 2013 – 2016, Habitat for Humanity 'Blitz Build', PLANET, Extreme Makeover – Home Edition
---
Why Choose Lawrence Landscape
The most beneficial and rewarding relationships are long-term ones. We take pride at Lawrence Landscape in the fact that we make it the highest priority to build long-term relationships with each of our clients. Our ideal client is one who understands the value of a high-quality landscape product and service and who desires a worry-free commitment to such work.
---
Our People
While the products and services we provide are exceptional, it's our team members that we are most proud of. All our team members are family-oriented and have a passion for the "green" industry. Each time we visit your property, we will greet you with a smile, be dressed in a professional uniform, show courtesy and respect, and maintain a neat and organized work site.
We have friendly, highly skilled team members available to create your ideal environment and keep it maintained. You'll recognize them by their clearly marked Lawrence Landscape trucks and uniforms. We provide ongoing training, so our employees stay well-versed in the latest techniques.
Our Work Ethic
We take pride in our work and our ability to create an environment that suits you. Our trucks parked in front of your home or business are always clean, and our equipment is well maintained. We respect your property and privacy, and we work with your schedule to arrange service.
It is our job to envision your landscape at its full potential. Whether through a maintenance contract or a design build project, we will provide ideas, suggestions, and the services to maximize your landscape of your property. Feel free to browse our portfolio to view some of our past projects.
Create the landscape of your dreams and schedule commercial and home lawn care services throughout Lawrence!