Our Top 10 Projects: Inspiration for Landscape Design in 2022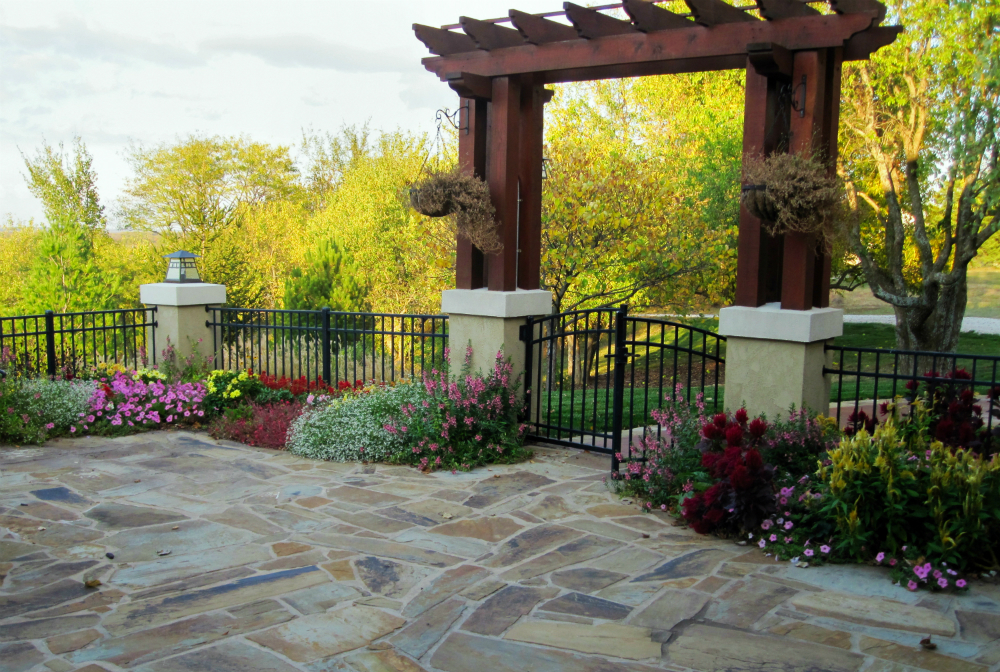 Homeowners have spent more time than ever in their yards over the last two years due to the restrictions of the COVID-19 pandemic. As a result, many are ready to upgrade their outdoor space but may not know where to turn first. Find out how you can maximize your investment and increase curb appeal with our list of top projects that are sure to get you inspired for the new year.
Project 1: Outdoor Living
Go from bland to beautiful with a simple outdoor living space. As you can see in the pictures below, we took a basic backyard and transformed it into an inviting patio space by incorporating brick pavers and a defined garden. The result creates a comfortable gathering area while still leaving plenty of green yard.
Before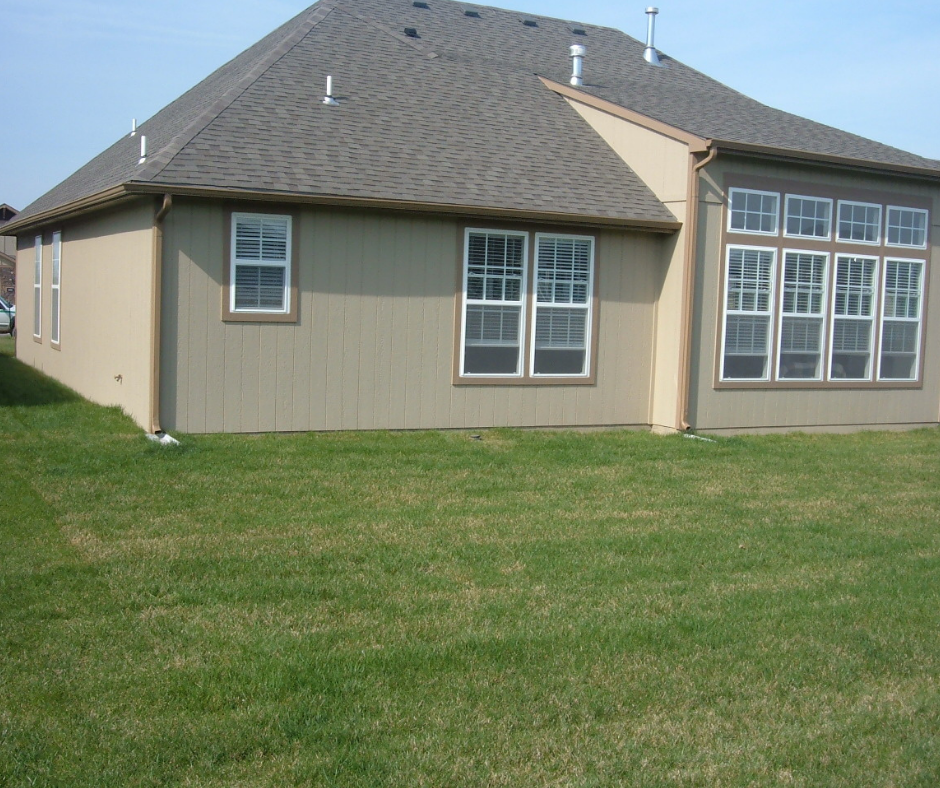 After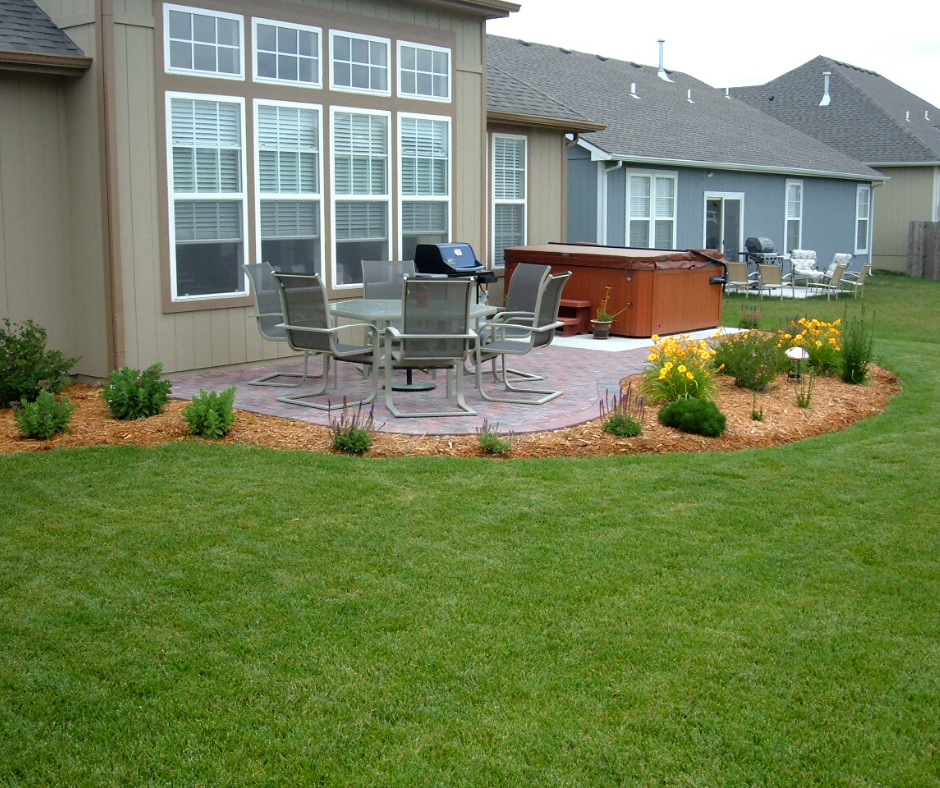 Project 2: Lower-Maintenance Yard
If spending less time on lawn maintenance is on your wish list, this project is an excellent way to accomplish that while adding visual interest. The addition of stones means less grass to maintain; it also highlights the patio and gives the illusion of a larger space thanks to the similar coloring. The inclusion of three trees on the side keeps things from getting too whitewashed while also setting up for future privacy as they mature.
Before
After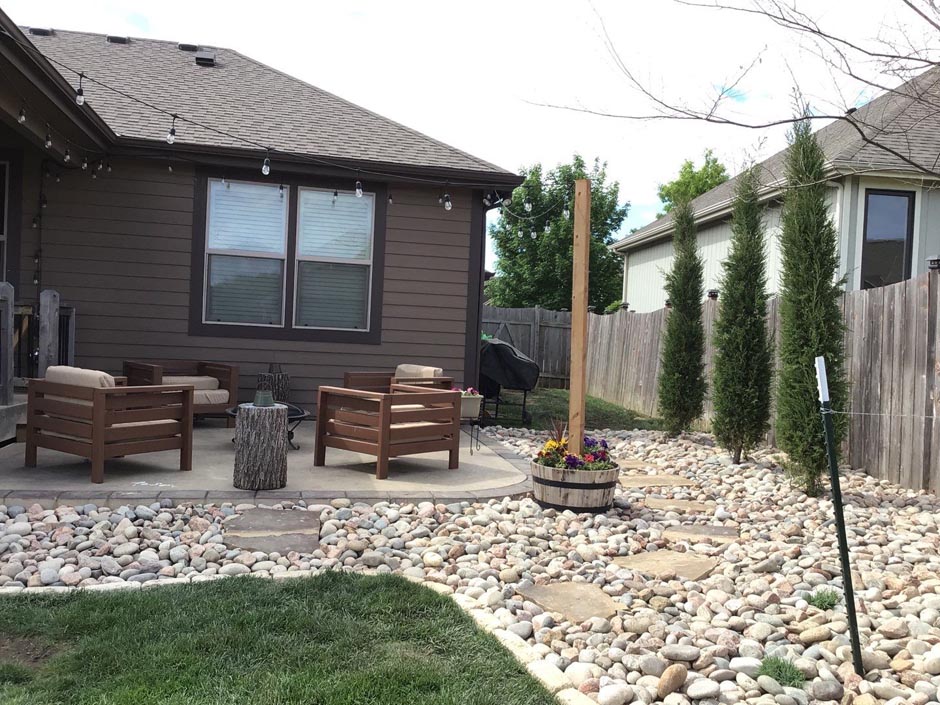 Project 3: Retaining Wall
A well-built retaining wall holds back the soil in areas where there is a definitive change in grade and can also be used on level ground as a means of elevating your garden or driveway. This design choice is not only aesthetically pleasing but can add value to your property. The type of material used is based on several important factors, including durability, height, moisture, and aesthetics. Common choices include timber, natural stone, concrete, and brick.
Before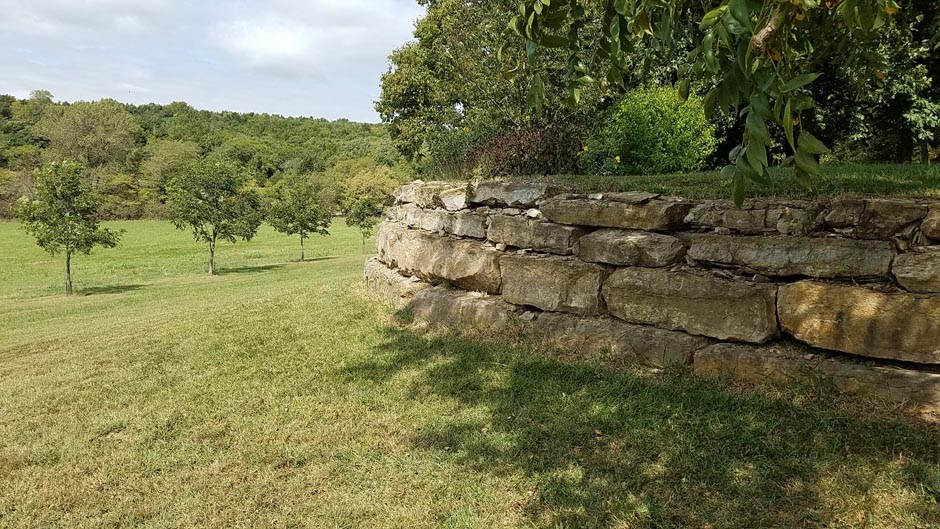 After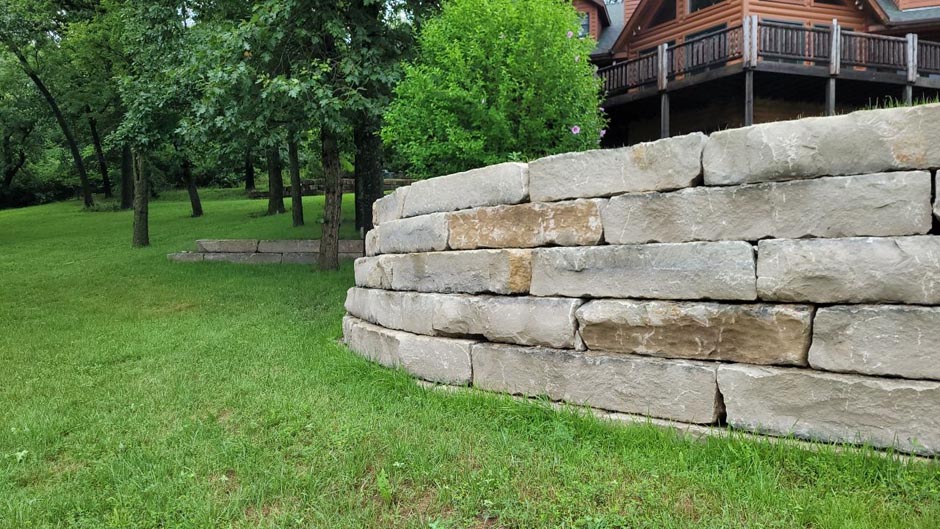 While your retaining wall must look good, it's even more critical that it be structurally sound. We recommend beginning with a thorough assessment of the land to determine the grade, soil conditions, and drainage issues. The team of experienced professionals at Lawrence Landscape will ensure the grade is set correctly, that any drainage concerns are addressed, and that you are satisfied with the design.
Project 4: Walkways
Walkways are a great way to create a path through your beautiful backyard or get from the house to a relaxing patio or outdoor living area. They provide definition and curb appeal but also enhance the functionality of your space. A walkway also makes a yard more inviting and can keep guests on a set path while preventing damage to your lawn or plants.
Before
After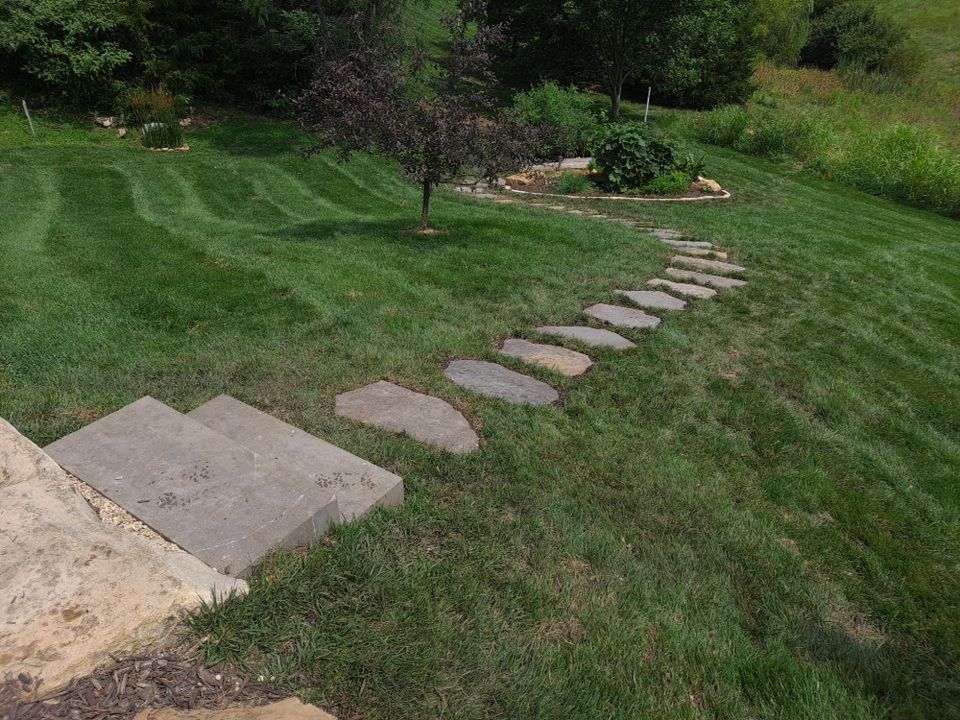 Project 5: Open Your View
Homeowners can get so used to the same view that they forget they can change it. Okay, maybe not entirely, but you can go a long way in switching up what you see out your back window by removing obstructions. Taking down the fencing in this backyard transformed how open it feels. With the extended curved patio and retaining wall, this project still maintains the yard's boundaries without being closed in.
Before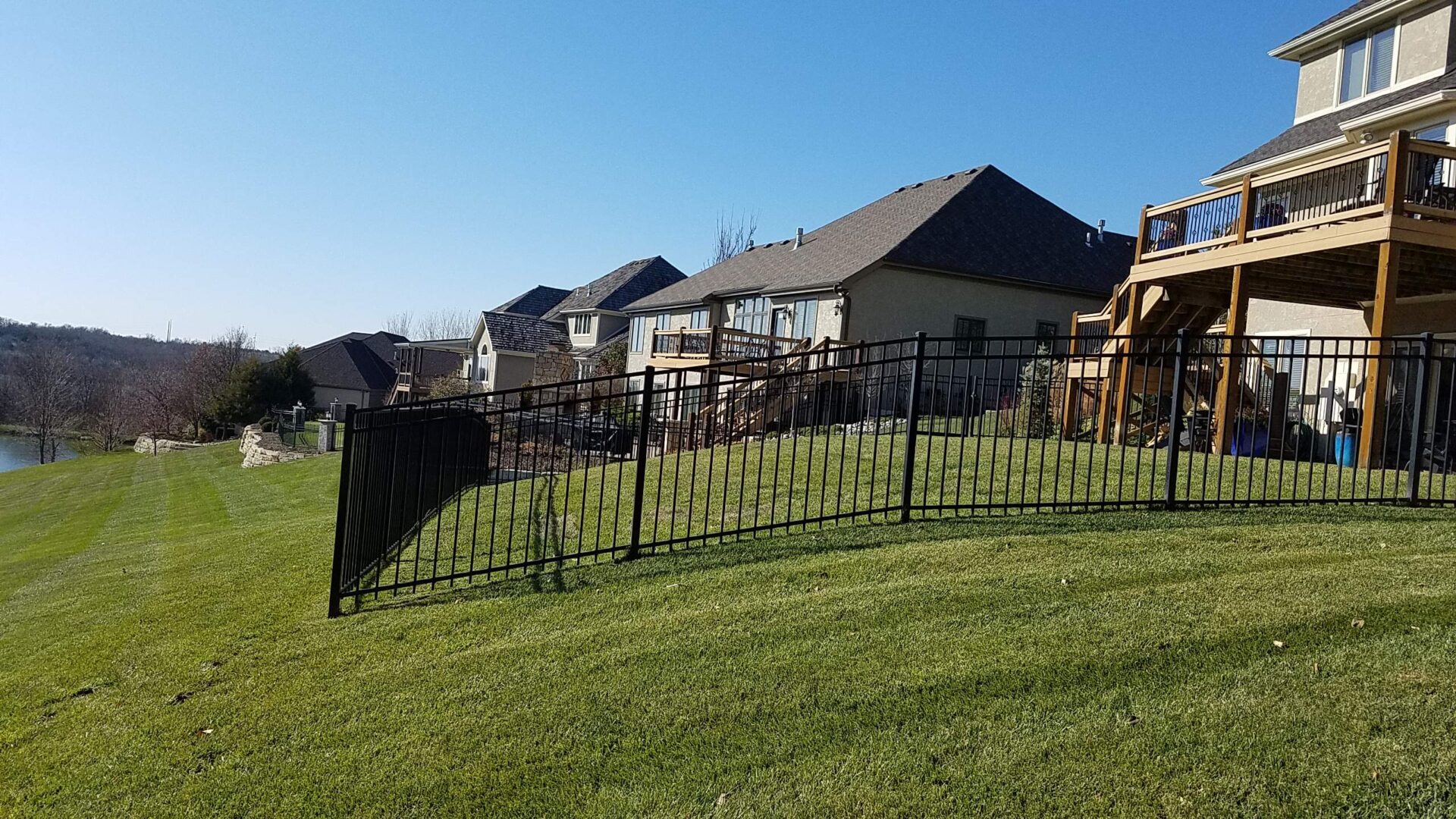 After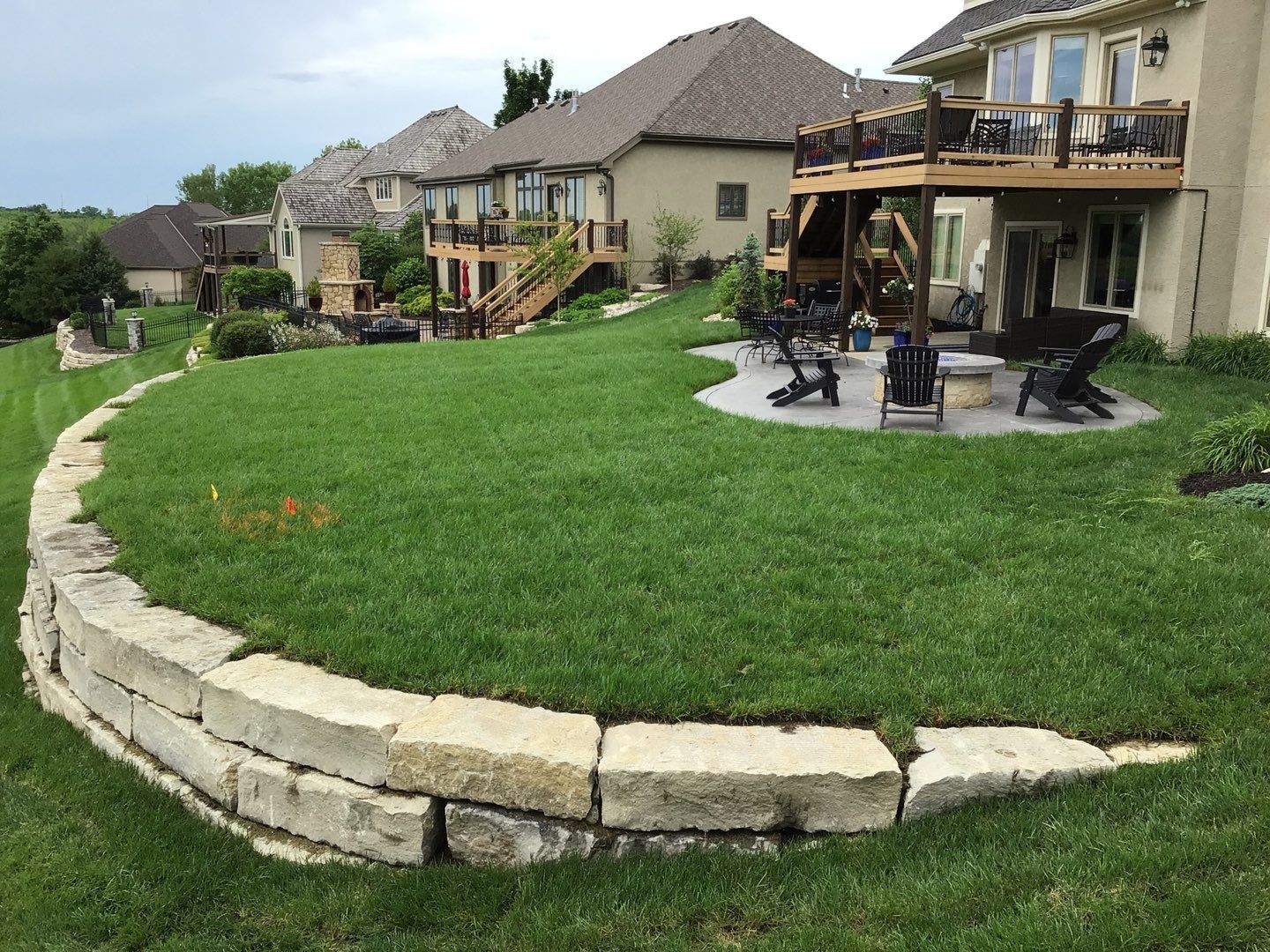 Project 6: Incorporate Native Plants
Selecting the right flowers, shrubs, and trees for your yard can be a daunting task but ultimately a crucial one. Choosing native plants is an excellent way to promote biodiversity and keep the air around you cleaner. Not only are they low maintenance, but they attract local birds, butterflies, and other various wildlife to your yard!
Before
After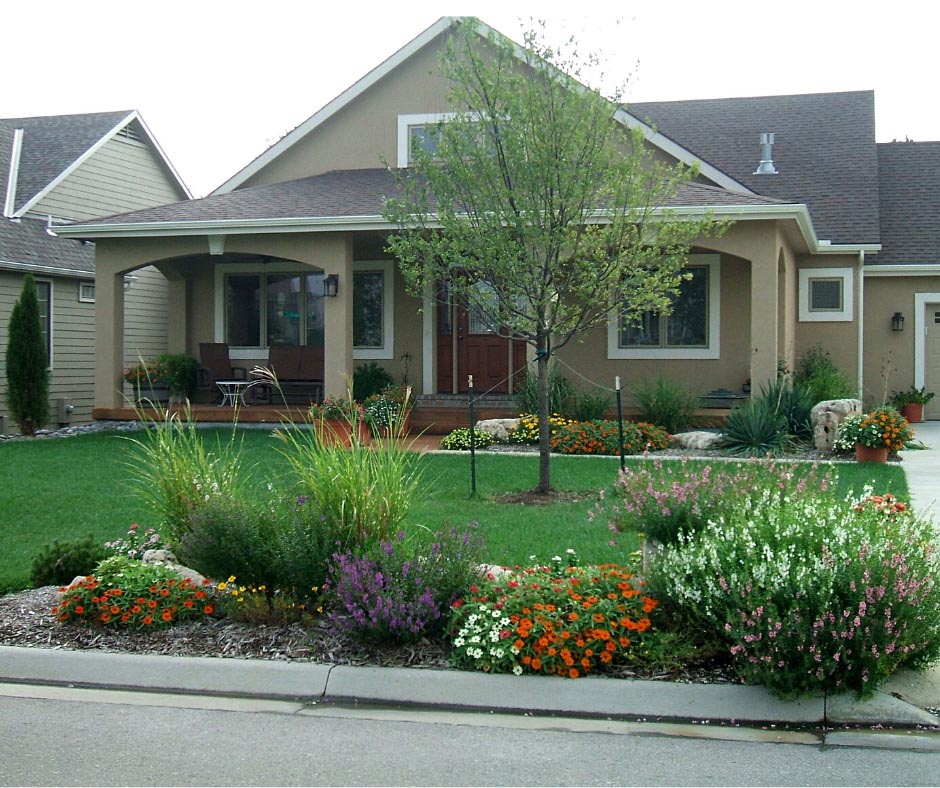 In 2001, Lawrence Landscaping determined that the only way to guarantee the quality and sustainability of the trees and shrubs we install was to grow them ourselves. Our 30-plus-acre tree farm is home to over 7,000 trees and shrubs in various stages of growth, all of which are suitable for the climate in this area. Whether it's a modest perennial or a 2,500-pound evergreen, we can help incorporate this important element into your landscaping.
Project 7: Multiple Levels of Landscaping
Not sure what to do with a sloped yard? What you may see as an obstacle can actually be an asset if you know how to utilize it, which is where professional landscapers can provide vital advice. One of the best solutions is multilevel landscaping.
This approach utilizes rocks, bricks, and other materials to create garden beds and a bit of drama in what may otherwise be a barren hill. Executing multiple levels properly requires experience, so be sure to reach out for expert assistance.
Before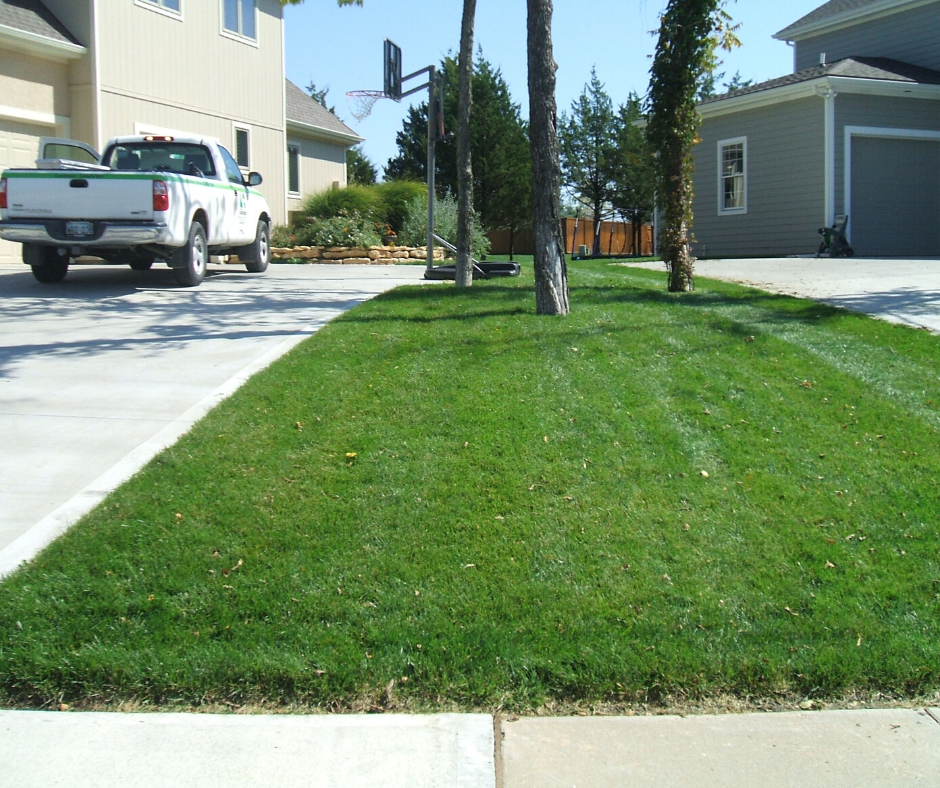 After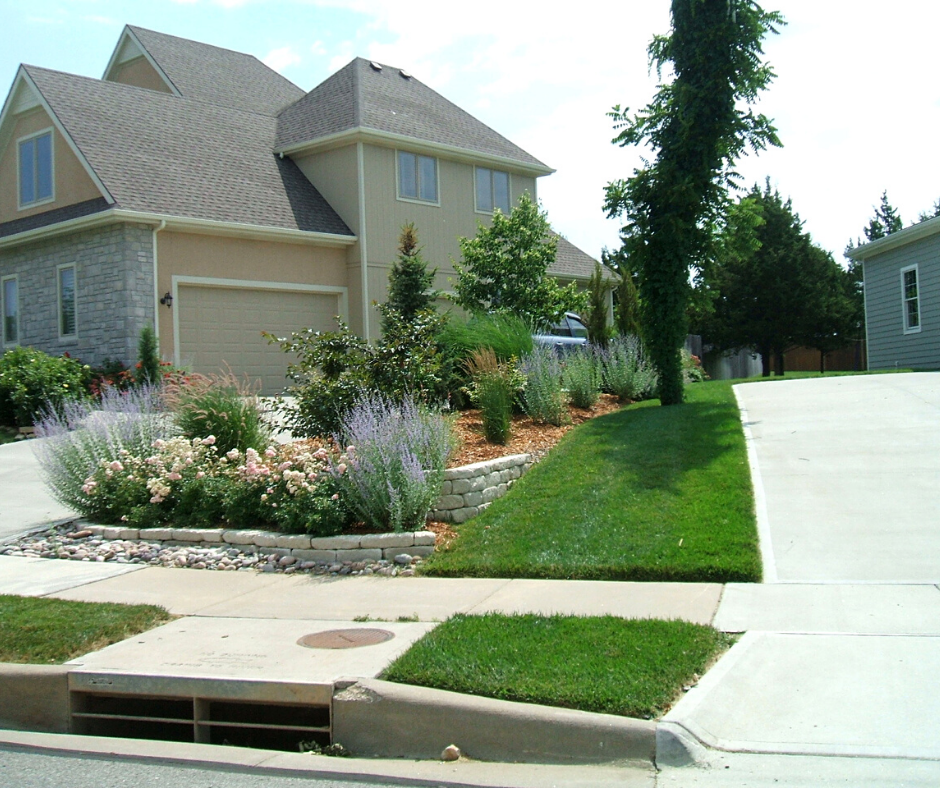 Project 8: Switch Up Your Shape
If you already have a patio in place, you may not think you would benefit from an additional landscaping design. However, below you'll see how a patio reshape transformed the look of this backyard.
This project hits many of our favorite benefits of patio design, including increased square footage and improved outdoor living. Moving outside of the standard patio rectangle can create a visual interest that instantly modernizes your space.
Before
After
Project 9: Highlight Your Home
Landscape design is often thought of as a complement to a house, but it can also elevate your home's best features. The cut of a garden bed, shrubs, or trees can be used to draw the eye where you want it — whether it's to distract from an eyesore or highlight architectural detail.
While the brick chimney certainly looked lovely in the first picture below, you can see how well it is offset with the addition of a sloped garden bed, green shrubs, and dark mulch. This is a simple upgrade to incorporate into your current landscaping to add more curb appeal to any element of your home.
Before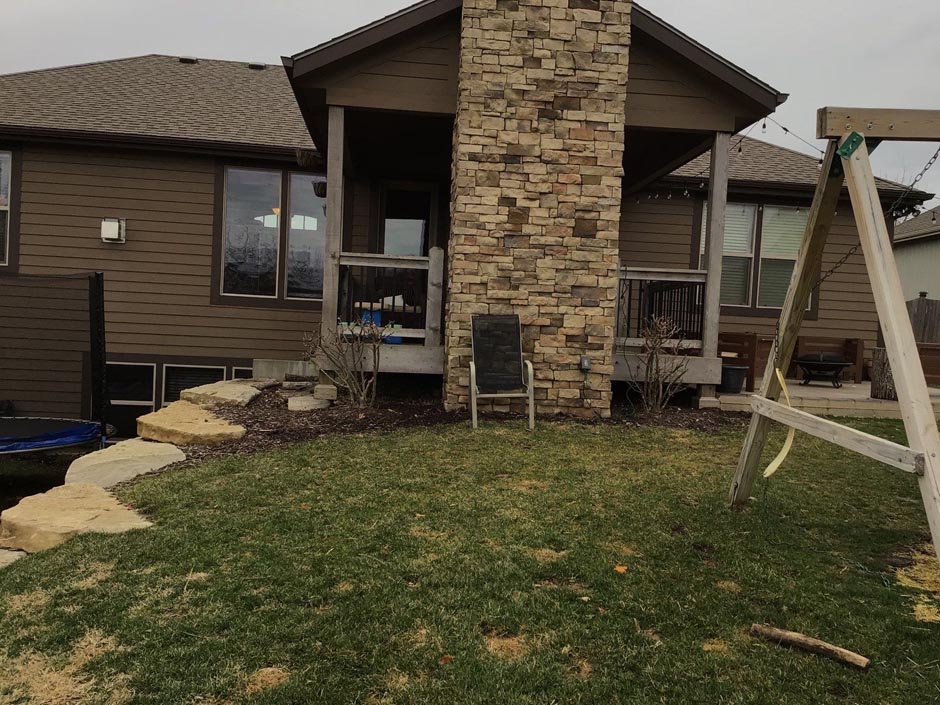 After
Project 10: Fire or Water Feature
If your goal in 2022 is to entertain more, a custom-built outdoor fireplace or fire pit is an excellent way to make it happen. Lawrence Landscape has the expertise to tackle any unique requests or special features you want. Part of the project below involved adding a hibachi grill to the patio! Family and friends will certainly want to gather around your newly designed space.
Before
After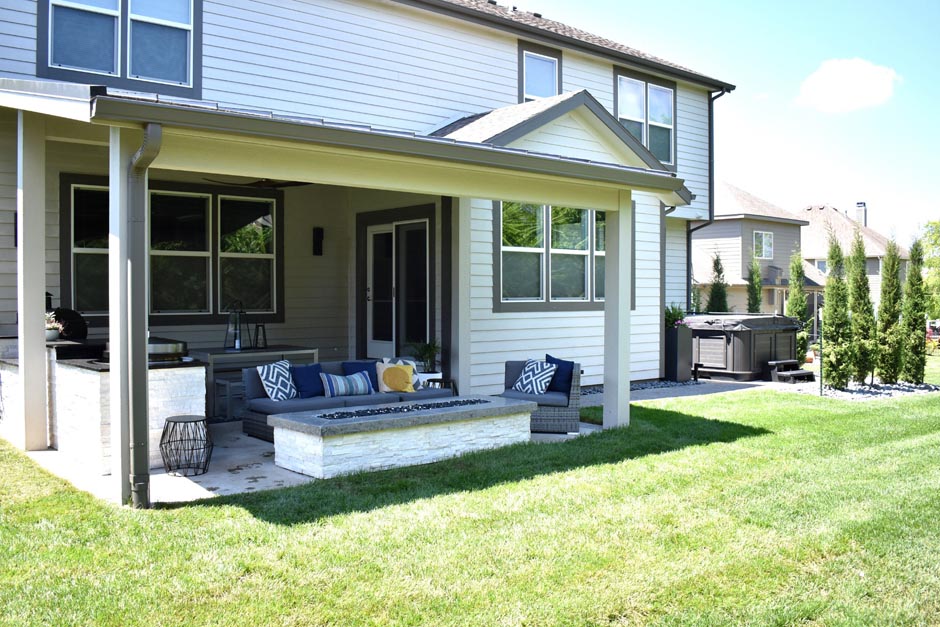 To add something extraordinary, a water feature can evoke a sense of peace and tranquility and serves as a great addition to any landscape design.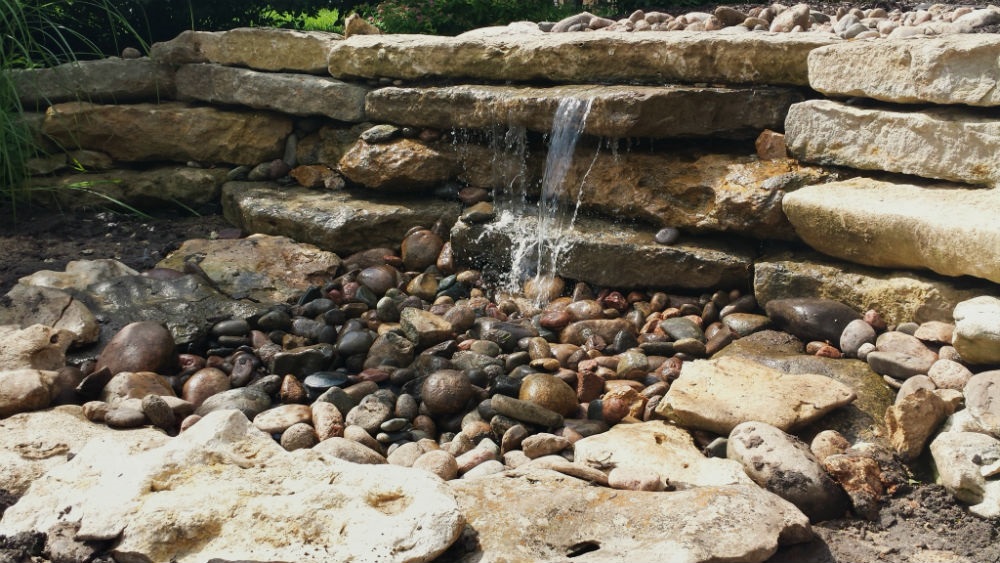 The good news is that you don't have to add an entire pond to your lawn. There are many ways you can incorporate water features in your landscape, no matter the size of your yard, and low-maintenance options can be installed with pet and child safety in mind.
Design Your Next Project With Lawrence
Are you inspired to get started on your next landscaping project? We can help! The professionals at Lawrence Landscape have decades of experience and use only the finest quality products and materials to maximize your investment and ensure your complete satisfaction.
Kick off 2022 with a beautiful yard from Lawrence Landscape! Give us a call at (785) 748-1232 or contact us online today.