Lets talk Fire Pits, Fire Places and Outdoor Kitchens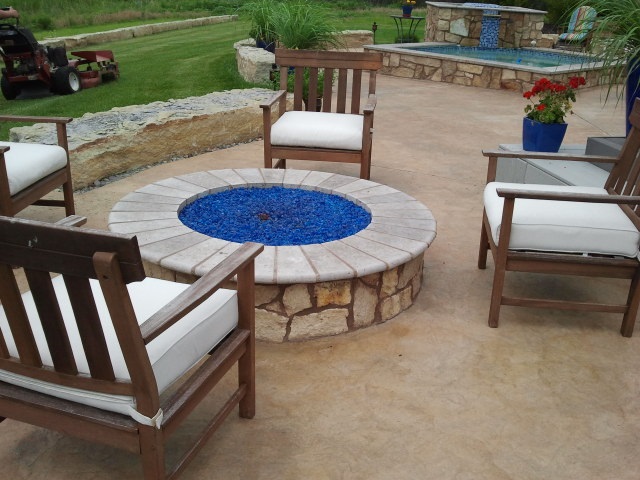 With warm weather and some of our favorite summer holidays coming up, an outdoor entertainment space is a great idea for hosting parties it also creates a comfortable place to relax and spend time with family. There are lots of different ways to design an outdoor living space to fit your lifestyle and overall property. Let's take a look at the different options that might be perfect for your ways of entertaining.
Fire Pit
A simple fire pit might be the perfect addition to your back yard. A fire pit does not take up much room and can easily be integrated into your current landscape and patio. On the other hand it can be used to give your landscape and outdoor entertainment space an upgrade. There are different options available depending on our lifestyle and budget. Natural wood burning fire pits are more affordable and can boost the aesthetic of your home. Gas fire pits are more expensive but they're quick to light and are more environmentally friendly. A fire pit can be complimented with a flag stone or paver patio surrounding it, to complete the entertainment space simply place your favorite outdoor chairs around the pit for you and your guests to enjoy.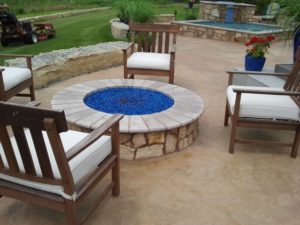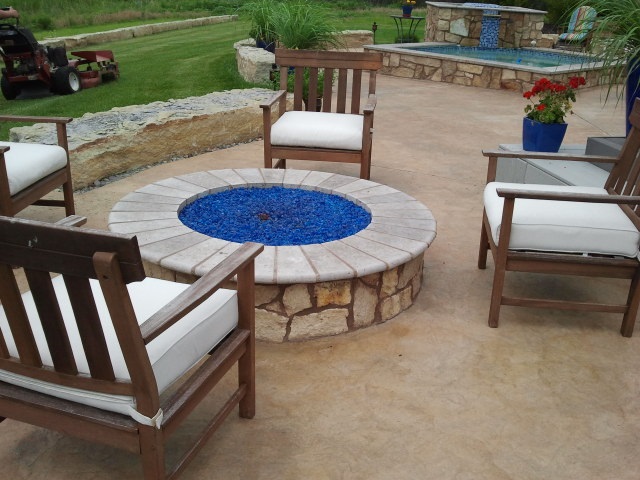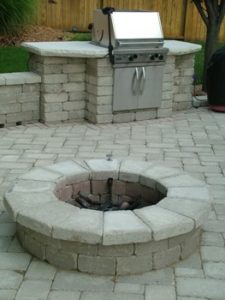 Fire Place
A fire place is a way to make a statement within your landscape. Not only are they a unique luxury feature that can be personalized to your taste, but they are also practical to help keep you warm on a chilly night or just enhance the feel, style and look of your outdoor living space. There are lots of different ways to personalize your fire place, such as the type, color and material that's used, adding in a mantel or built in wood whether it's gas or wood burning. Depending on your style and budget a fire place could be the perfect feature to complete your dream outdoor entertainment space.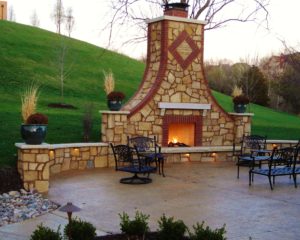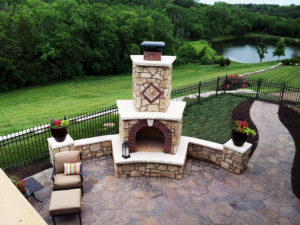 Recipes to add into your summer nights:
Step outside of the s'mores norm and try some fun substitutions. Instead of Hershey's chocolate, try using Andes mints or use Reese's peanut butter cups. Girl Scout cookies could be a delicious substitute for the graham cracker as well.
Roasting fruit on a skewer is another fun fire-must-try. The fruit's natural sugars caramelize and becomes a taste that cannot be beat! Try roasting pineapple or peaches and top them off with some vanilla ice cream.
If you like blueberry muffins and oranges, this one is for you! You will need blueberry muffin mix and a couple of oranges. Start by making the muffin mix as directed on the packaging. You can even add some juice from the orange into your muffin mix to get an orange and blueberry flavor. Then take an orange and cut it in half and scoop out the middle on both sides. From there, put the mix into one of the halves and close the orange back up. Wrap the orange in tin foil and set the wrapped orange on a grate over the hot coals. Be sure to turn it occasionally to make sure the muffin bakes evenly. After about 8-10 minutes, check and see if the center is done. Eat and enjoy!
Outdoor Kitchen
An outdoor kitchen can take your grilling and entertaining to a whole new level! They can be small and include just a grill with a side burner for stove-top cooking or they can be large and encompass a wide range of appliances, such as a grill, refrigerator and refreshment center. An outdoor kitchen can include bar seating, as well as additional counter space that can be used for serving food and drinks. Depending on your style, budget, and entertainment needs, an outdoor kitchen is the best way to get everyone together, eat good food and entertain guests all in one place.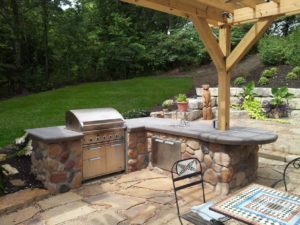 If an outdoor entertaining space sounds like something that would be a perfect addition to your home, Lawrence Landscape can help you with the entire process, our professionals can help you design and personalize your dream outdoor living space. Visit our website or call us today 785-843-4370.