Perfect Patio Ideas for Your Kansas Home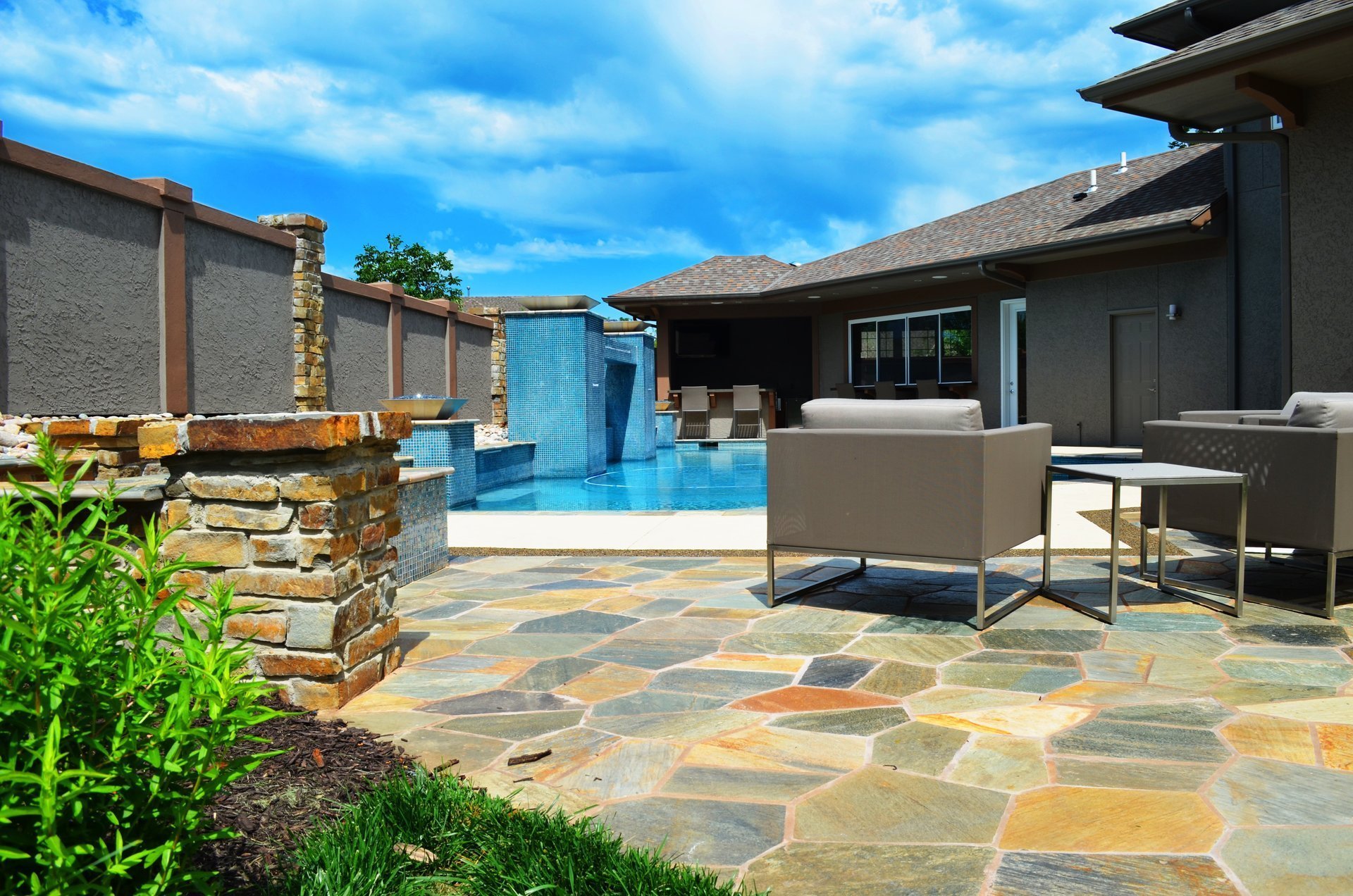 Finding ideas for the perfect patio design is an exciting adventure into your personal tastes. Like any part of your Kansas landscape, your patio is a reflection of what makes your home unique. It is an extension of your personality, likes, and what you feel passionate about. At Lawrence Landscape, our expert design and landscaping team would love nothing more than the opportunity to assist you in building the Kansas patio of your dreams.
Basic Decisions: Choosing Your Patio Material
The best place to start with your patio ideas is what kind of material to use. Whether it's made of cobblestone, brick, or concrete pavers, your patio material will set the tone of your yard:
Clay brick
A long-standing classic, brick has been a favorite in Kansas patios for both contemporary and traditional designs. Brick can be used to create sophisticated, distinguished patios, or it can be configured to accommodate more rustic looks.
Pavers
The king of versatility, pavers can come in natural stone, concrete, and can even be made to simulate the appearance of brick. This option is great for unique design and simplistic bases alike.
Stamped concrete
Concrete is an inexpensive, no-nonsense material. Modern concrete can be colored and stamped to resemble a riverbed, bricks, and even natural stone. Concrete can be poured into endless designs and shapes, making for a true "blank canvas" choice.
Natural stone
Stone such as flagstone can make for a very appealing, durable option that is sure to last for generations. Earthy and unique, flagstone can be a bit more costly, but the result is absolutely gorgeous.
Finding Ideas for Your Dream Patio Layout
The layout of your patio should play to your home's strengths, or be used to make up for aspects you may be lacking. Ask yourself these questions:
What are you using your patio for?
How close to your home do you want it?
How much space do you have to work with?
At a loss of where to go with your design? Try these patio ideas:
Home-hugging. If you're working with limited yard space, but you dream of a large patio for your home, consider creating an L design that wraps around two exterior walls.
Treat it like a retreat. Take advantage of your patio's country appeal and create a small patio space away from the home. This mini-getaway can be a great way to relax.
Create a dining space. Outdoor kitchens and dining areas have become an excellent and popular option as of late. These are a great choice for smaller homes, where residents may want a more open option.
Make it roomy. If your design is for a large patio space, avoid creating a single slab. Consider breaking the space up into multiple "rooms," as this allows unique design decisions and makes the patio more inviting.
Transform Your Patio Ideas into Reality with Lawrence Landscape
Our team has all of the skill and experience you need to refine your dreams into something tangible. Contact us today  to learn more about what patio ideas we have to offer.