Winter Landscaping Projects for Your Lawrence, KS Home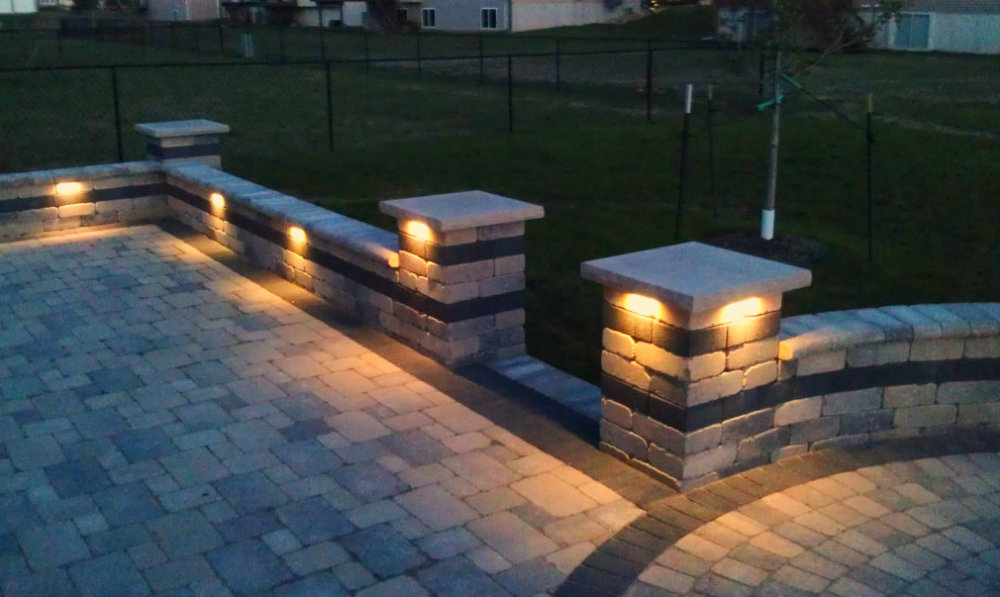 Winter is a great time to complete any number of projects around your home, including your landscaping. The cooler weather means that you won't be using your outdoor space for relaxation or recreation, take this time to assess if your outdoor space is your perfect space to relax and spend time with family. The team of experienced professionals at Lawrence Landscape has some great ideas for winter landscaping projects to improve the appearance, functionality, and value of your home in the Lawrence, KS area.
To enhance your landscaping this winter, give us a call us at (785) 843-4370 to get started or contact us online today! 
Enhance Your Outdoor Lighting
Shorter days and icy walkways create a need for functional landscape lighting around your property for added security, safety, and usability. Winter is a great time to install any or all of the following:
Pathway lighting – Illumination is needed along the pathway to your front door or garage or to various areas around your property, to provide safe passage for your family and guests.
Security lights – Floodlights, motion lighting, and other types of strategically placed lighting can help to deter criminals from theft and vandalism.
Stair lighting – Prevent tripping by placing lights on each stair to enhance safety.
Accent lighting – Highlight architectural features or other focal points around your property.
Install a Fire Feature
Nothing is more inviting on a cool winter evening than a roaring fire, which can provide a source of light and heat, with flames that are perfect for roasting marshmallows for s'mores. Professional design, installation, and placement of your fire feature will enhance the safety and enjoyment of your fireplace or fire pit and ensure it will last for years to come.
Prepare for Spring
Winter is a great time to get your garden ready for the spring by completing the following tasks:
Prune many varieties of trees and shrubs while they are dormant and before spring growth begins.
Plant new trees during periods of dormancy to minimize the disruption to the growth process.
Plan ahead to determine your course of action for the spring, including any changes you want to make to plant materials or hardscaping.
With all the beautiful options you can have in your landscaping, visit Lawrence Landscape's tree farm for ornamental trees, shrubs, Christmas Trees, and much more to add to your Lawrence, KS home.
Keep Watering
As long as the outdoor air and soil temperatures remain above 40 degrees, continue to water your grass, fruit trees, and shrubs as needed during periods when the weather is dry. With no snow cover, plants may be deprived of vital moisture and may suffer root damage or be more susceptible to diseases.
Create an Outdoor Kitchen
Take time during the offseason to design and install your outdoor kitchen space so that it is all ready to go once the temperatures begin to rise. Our talented designers will work with you to determine your exact needs and budget, and they have the knowledge and expertise needed to ensure your custom outdoor kitchen is completed to your exact specifications, with options that may include:
Outdoor refrigerator or wine cooler
Custom lighting
An oven and/or range
Countertop or bar seating area
Outdoor fireplace
Sink
Outdoor smoker
And more!
For the easy projects of replacing stones or pavers, our TreeFarm can help you with your hardgood needs.
Upgrade Your Patio or Pool Deck
It may be too cold out to enjoy your pool or patio, but winter is the ideal time to design a new walkway or outdoor living space or to replace your worn or damaged pavers, tiles, or stone. Materials we use include:
Stamped concrete
Brick
Concrete
Stone
Get Started on Your Winter Landscaping Projects in Lawrence, KS
Lawrence Landscape has decades of experience and uses only the finest quality products and materials on every project, to maximize your investment and ensure your complete satisfaction.
We have a variety of services – let us landscape your lawn this winter! Contact us at (785) 843-4370 to get started or contact us online today