Commercial Landscape Services in Lawrence, Kansas

Property Landscape Services in Eudora, KS
While a company needs to make sure everything on the inside of their business is running smoothly, they need to think about the outside appearance too. The outside of your building is the first impression your customers, employees, and prospective employees have of your company, which means the commercial landscaping projects you have done are important! Having professional commercial lawn care services at your Ottawa, KS, or surrounding area business done correctly means you won't have to worry about city ordinances for grass or remembering to call out each week to get the landscaping done.
With Lawrence Landscape, you will never have to worry about your commercial landscape services in the Lawrence, KS, area again! We have over 20 years of experience with all things landscaping. We can set up how often you would like us to do your landscaping, and it's easy to pay the invoice. We always get the job done on time and can install hardscaping as well as take care of your landscaping.
Ready to impress your customers? Contact Lawrence Landscape to schedule your property landscape services in Eudora, KS, and the surrounding areas today!
Lawn Care Maintenance
Do you need dependable commercial lawn care services in Ottawa, KS, or the surrounding areas? Whether your commercial lawn is big or small, we can help you get the greenest, neatest lawn in the neighborhood! At Lawrence Landscape, we have a proven reputation of caring for commercial lawns and can provide the following lawn care maintenance services:
Annual plantings
Annual rotations
Concrete removal and installs
Landscape maintenance
Drainage
Fertilization
Irrigation
Landscape renovations
Mowing
Parking lot cleanups and trash removals
Pruning and shaping
Snow removals
Weed treatments
And more!
Don't let your business competition get an edge over you by having a more inviting landscape! Call (785) 843-4370 or contact us online for the best commercial lawn care services in Ottawa, KS, and the surrounding areas!
Hardscape Commercial Landscaping Project in Kansas
Many business owners are looking to hardscaping services to give their buildings' surroundings a better look, feel, and atmosphere. At Lawrence Landscape, we'll help you design your landscape using the help of our professional craftsmen and landscape designers. The hardscaping projects can bring focal points to your building or add outdoor areas for your employees to relax during their lunchtimes.
What commercial hardscaping services are right for your business? At Lawrence Landscape, the options are nearly endless! We provide quality hardscaping services for:
To schedule hardscaping services for your commercial lawn or landscape in the Lawrence area, contact us today!
Full-Service Commercial Landscaping in Lawrence
Do you need an all-in-one solution for your commercial landscape or lawn? Our professional landscape contractors can meet all of your landscaping needs to present your business to potential consumers and clients. We offer the following property landscape services in Eudora, KS, and the surrounding areas:
Aeration
Bed mulching
Fertilization
Fences, woodwork, and benches
Fire features
Irrigation design, installation, repair, and service
Landscape design, installation, and maintenance
Mowing
Outdoor kitchens
Outdoor lighting
Over-seeding

Patios and driveways
Plant installation and removal
Pruning, edging, and trimming
Retaining walls and steps
Seasonal cleanups
Sidewalks and pathways
Soil amendments
Turf seed and sod installation
Tree/shrub planting and maintenance
Water features
Weed control
If you need any of these landscaping services for your business or company, contact our commercial landscape contractors in Lawrence today! We also service the Baldwin City, Eudora, Midland, Ottawa, and Tonganoxie areas.
Featured Commercial Landscaping Services in Lawrence, Kansas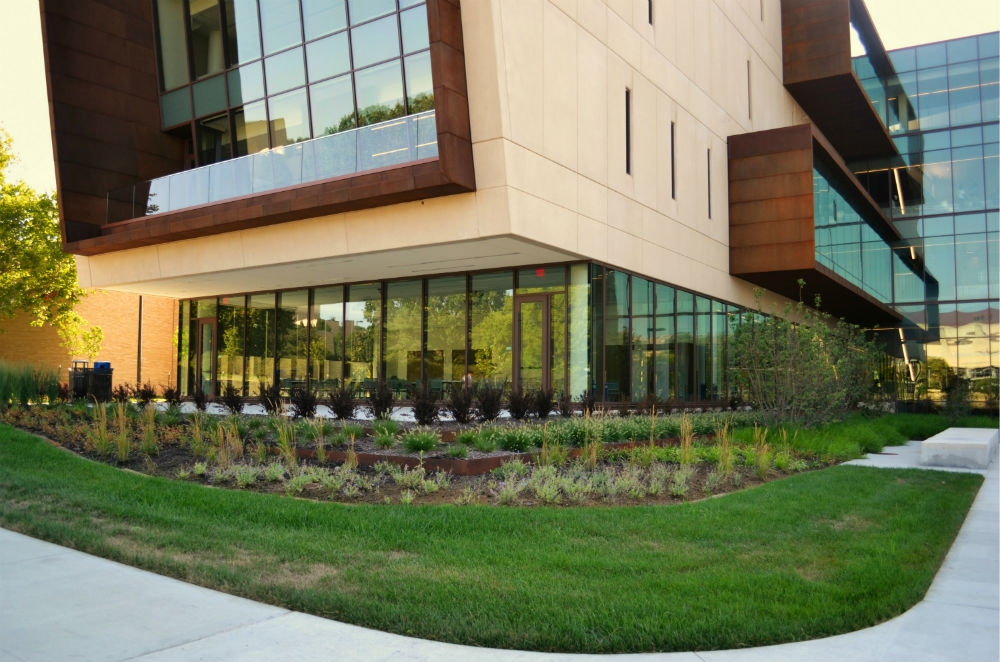 Bid-Build Landscaping
Our specialists at Lawrence Landscape are exceptionally familiar with bid-build scenarios and welcome you to request a consultation, whereby our craftsmen can provide you with the expertise you need to get your project completed on time and on budget. We work with projects of any scope or size!
Design & Build Landscaping
For proven commercial design and build landscaping services, you can count on our team. Our commercial landscape contractors are equipped to serve you as the single source for all of your property's landscaping projects.
Commercial Irrigation Landscaping
Only a professionally installed commercial irrigation system will do when it comes to promoting a healthy landscape for your building or office. Irrigation saves time, stress, and removes the need to dedicate a groundskeeper to manage irrigation on your property.
Commercial Landscape Construction
Planning your new landscape construction project with us can save immense time and energy for your business in the long run. At Lawrence Landscape, we can offer you the very best. Our experienced landscape contractors can help design or build several hardscape features, including concrete structures, patios, outdoor spaces, walkways, fencing, and so much more.
If you're not happy with your current commercial property landscape services in Eudora, KS, and the surrounding areas, you don't have to settle! You will be amazed at the difference when you call Lawrence Landscape at (785) 843-4370.
Commercial Landscape Maintenance
Quality, cost, and convenience are all factors to consider when hiring a professional landscape or lawn care team. At Lawrence Landscape, we have been providing high-quality, reliable lawn care and maintenance services for many years with honest pricing we stand behind. When it comes to maintaining your property, our commercial landscapers in Lawrence can provide complete lawn and landscape maintenance services.
Visit Our Tree Farm for Landscaping Options
Is your building's landscape missing a few trees? Lawrence Landscape has been nurturing a beautiful tree farm that we welcome you to visit. Even installing a few trees into your landscape can dramatically improve the appearance of your building and invite the pleasantries of birds, butterflies, and flowers.
Contact us today to ask about our commercial landscaping services in the Lawrence area!
Contact Us for Commercial Landscaping Services in Lawrence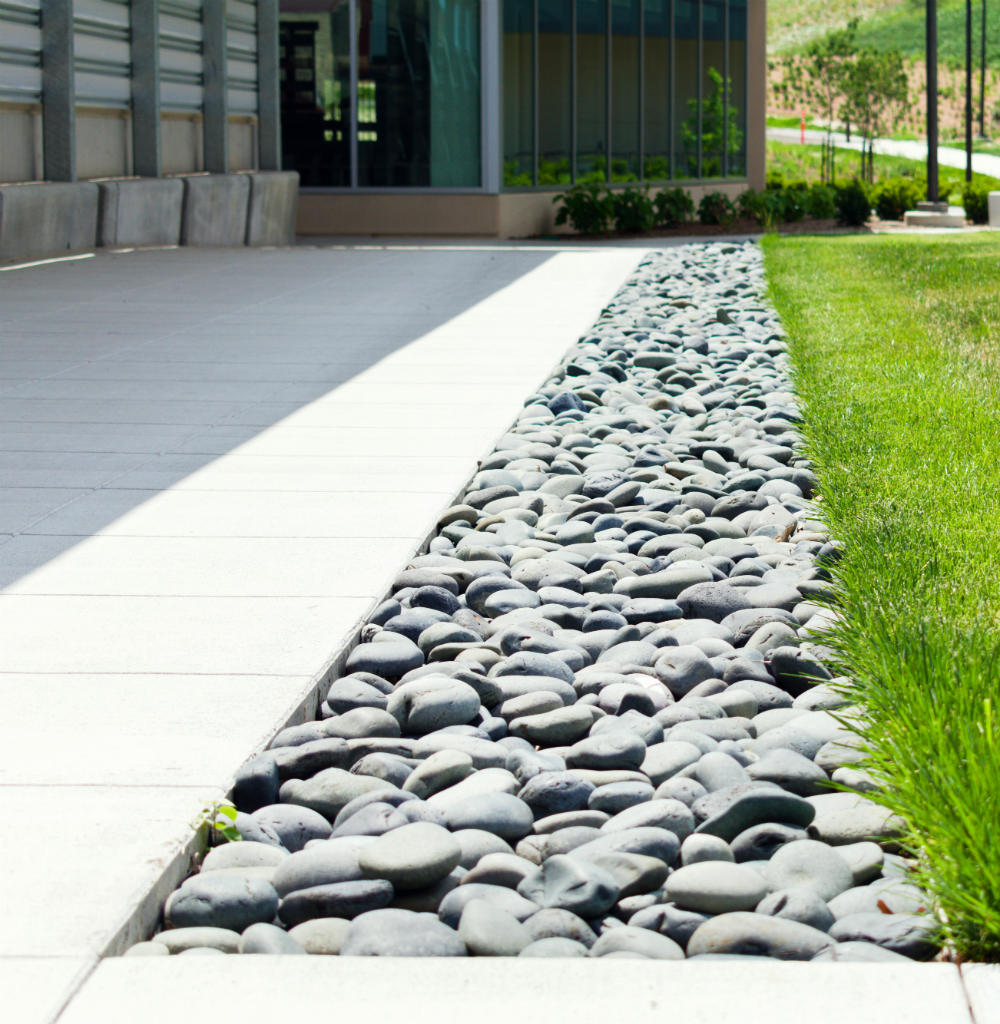 Commercial Landscapers Serving Baldwin City, Midland, Ottawa & Tonganoxie
We have been doing commercial property landscape services in Eudora, KS, and the surrounding Lawrence areas for over 20 years. With all that time and experience, we have installed, replaced, and maintained many different kinds of landscape projects. We can help you create a commercial landscape that will work within your budget and still be pleasing for customers and employees.
We always arrive on time and can give you estimates for all the landscaping projects you might have in mind. If you don't believe that we will do everything to make sure you, the customer, are happy with our work, you can check out our reviews.
Contact us today to schedule commercial lawn care services in Ottawa, KS, and the surrounding areas today!