Landscaping Services in Lecompton, Kansas
When you need lawn and landscaping services in the Lecompton area, look no further than the experts at Lawrence Landscape.
With over three decades of experience, the team at Lawrence Landscape uses high-quality products and techniques to create and maintain beautiful landscapes. We serve residential and commercial properties with our expert landscaping services.
For reliable landscaping services in Lecompton, contact us online!
Landscaping in Historic Lecompton
The history of Lecompton makes it stand out from the crowd. Rich in Civil War sites and home to the state's oldest wood-frame civilian structure still standing where it was original built, Lecompton has much to explore. When you're considering the landscaping for your home, you want to blend in well with this historic city while still making your property distinctive. Lawrence Landscape can help. Our landscape and tree farm has native plants, trees, and shrubs that will grow well at your home and look natural in the area. We can also help you design a landscape plan that will blend in well with the local architecture. Make your home one that stands out in a good way with unique landscaping from Lawrence Landscape.
Call our landscape design professionals at (785) 843-4370 or contact us online to discuss landscape design in Lecompton, KS.
Commercial & Residential Landscapers in Lecompton
In the Lecompton area, we offer a wide variety of landscaping services to fit your needs.
Our commercial and residential landscaping services include:
Call us today at (785) 843-4370  or contact us online to schedule commercial or residential landscaping services in the Lecompton area!
Tree Services in Lecompton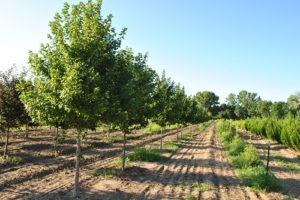 In 2001, we started our own tree operation to guarantee the quality and integrity of the trees and shrubs we install. Our tree farm has since grown to over 30 acres in size and is home to over 7,000 trees and shrubs in various stages of growth!
Our plants are harvested during their dormant period and stored securely at our tree farm, where customers are welcome to visit. We offer a vast selection of plants and trees in the field, and you can tag your own for purchase.
We offer a variety of flower beds, shrubs, small perennials, and more. We also sell and install flowering, shade, and evergreen trees.
For tree and shrub planting in the Lecompton area, contact Lawrence Landscape today!
Lawn Services in Lecompton
At Lawrence Landscape, we're passionate about lush, green lawns! We offer lawn mowing and maintenance and treatment services to help keep your lawn looking its best.
Our lawn services in Lecompton include:
Professional mowing
Seasonal cleanup
Lawn treatment and fertilization
And more!
Irrigation & Drainage
Landscape size, shape, and grade can all vary, which is why we provide drainage and irrigation design and installation services throughout Lecompton. Whether you need residential or commercial drainage or irrigation services, our team can design, implement, and maintain exactly what you need.
To request a quote on irrigation services, contact our landscapers today!
Custom Landscaping in Lecompton, Kansas
From your yard to your outdoor living spaces, we can take your landscape to the next level with our custom design solutions.
We can create stunning features in your landscape like:
Arbors and pergolas: Create focal points in your landscape with structures like arbors and pergolas.
Fire pits or outdoor fireplaces: Take your outdoor entertaining space to the next level with a custom fire pit or fireplace.
Outdoor lighting: Outdoor lighting is a necessary safety feature, and it can also help highlight your landscape, provide light while entertaining, and more.
Patios and walkways: Walkways help you and your guests navigate your property, and patios can be ideal for enjoying the outdoors at your Lecompton home.
Water features: Spruce up your landscape with a fountain.
Retaining walls: Whether you need privacy or are looking to improve your landscape structure, our experts can create the walls you need.
Contact us today to get started on your outdoor living space, or view our gallery for inspiration!
Schedule Landscaping Services in Lecompton, KS
When you need mowing, maintenance, or other landscaping services in the Lecompton area, our professionals at Lawrence Landscape are the ones to call. We can create services that fit your needs and budget for your Lecompton landscape.
Call us today at (785) 843-4370 to request a quote for your landscaping project, or contact us online to schedule landscaping services in Lecompton, KS!