Landscaping Services in Perry, Kansas
With professional landscaping services from Lawrence Landscape, you can make the most of your Perry landscape with the thoughtful selection and planting of trees, shrubs, and perennials and the addition of hardscaping and design elements.
Professional Landscaping Contractors
Our dedicated professionals at Lawrence Landscape are among the best in the business, and we use only the highest quality products and latest technology to ensure your satisfaction with the finished product. For over 30 years, we have been providing landscaping services to commercial and residential properties throughout the Lawrence area, including Perry.
For reliable landscaping services in Perry, contact us online or call us at (785) 843-4370 today!
Commercial or Residential Landscapers & Designers
We're proud to offer a wide range of commercial and residential landscaping services throughout Perry. No matter the project size and scope, we work closely with our customers at each stage of the process.
Our commercial and residential landscaping services include:
We also offer custom outdoor design and installation services such as:
Lawn & Tree Services in Jefferson County
At Lawrence Landscape, we offer a variety of lawn and tree services to fit your needs. Whether you need mowing, lawn maintenance, irrigation, or drainage solutions, you can trust us for quality products and services.
In fact, we started our own field growing operation in 2001 to guarantee the quality and integrity of the trees and shrubs we install. Our tree farm has since grown to over 30 acres in size and is home to over 7,000 trees and shrubs in various stages of growth!
Contact us online for more information about our lawn and tree services in Perry, KS! Or give us a call at (785) 843-4370. 
Tree & Shrub Planting in Perry
Our plants are harvested during their dormant period and stored securely in bins for ease of selection — customers are also welcome to view our vast selection of plants in the field and tag their own.
And we have the equipment, experience, and knowledge to plant any of the following in Perry:
Flower beds
Shrubs
Small perennials
And more!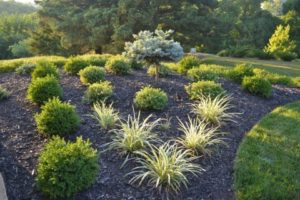 As the focal point of any landscape design, our trees and shrubs can provide benefits like these for your Perry landscape:
Supplying much-needed shade during the summer months
Helping to reduce the cost of cooling your home
Adding layers of color
Providing a windbreak
Acting as privacy screening
And more!
For tree and shrub planting in the Perry area, contact Lawrence Landscape or call (785) 843-4370 today!
Detailed Lawn Installation & Maintenance
Having a lush, green lawn is a source of pride among Perry homeowners and businesses. At Lawrence Landscape, we offer lawn mowing, maintenance, and treatment services to keep your lawn at its peak. Our lawn services include:
Professional mowing services
Seasonal cleanup
Lawn treatment and fertilization
Irrigation & Drainage
Landscape size, shape, and grade can all vary, which is why we provide drainage and irrigation design and installation services throughout Perry. Whether you need residential or commercial drainage or irrigation services, our team can design, implement, and maintain exactly what you need.
Custom Landscaping Projects in Perry, Kansas
Do you have a clear vision for how you want your landscaping to look? Perhaps you need assistance or inspiration with your design. No matter where you're at planning your dream landscape, Lawrence Landscape can help!
From your yard to your outdoor living spaces, we can take your landscape to the next level with our custom design solutions.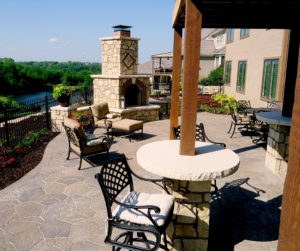 Contact us or call (785) 843-4370 to get started on your outdoor living space, or view our gallery for inspiration!
Outdoor Living Design & Renovation
You can enhance your lifestyle and add visual interest to your landscape with outdoor living design elements. Our hardscaping and renovation options in Perry include:
Arbors and pergolas
Firepits or outdoor fireplaces
Outdoor kitchens
And more!
Outdoor Lighting Design & Installation
Proper outdoor lighting is essential to your safety, but it can also help to highlight a focal point in your landscape design, illuminate your entertaining space, and allow you to enjoy more time outdoors with friends and family.
We offer the highest quality outdoor lighting on the market today and provide expert outdoor lighting design, installation, and maintenance services in Perry.
Beautiful Patios & Walkways
Provide safe passage for family and guests to your front door and various destinations around your yard with a custom walkway! Our patios and walkways can be constructed from a variety of natural or man-made materials such as natural stone, colored or stamped concrete, red clay pavers, and more.
No matter what your landscaping needs in Perry, Lawrence Landscape can help! Our professional landscapers are trained and trustworthy, and they know how to get the job done. Contact us or call  (785) 843-4370 today!
Schedule Landscaping Services in Perry, KS
Ready to get started creating the landscape of your dreams? The team of highly skilled professionals at Lawrence Landscape is ready to make your dreams come true with a wide range of landscaping services to suit every preference, style, and budget.
Call us today at (785) 843-4370 to request a quote for your landscaping project, or contact us online to schedule landscaping services in Perry, KS!