Outdoor Lighting Design in Gardner, Kansas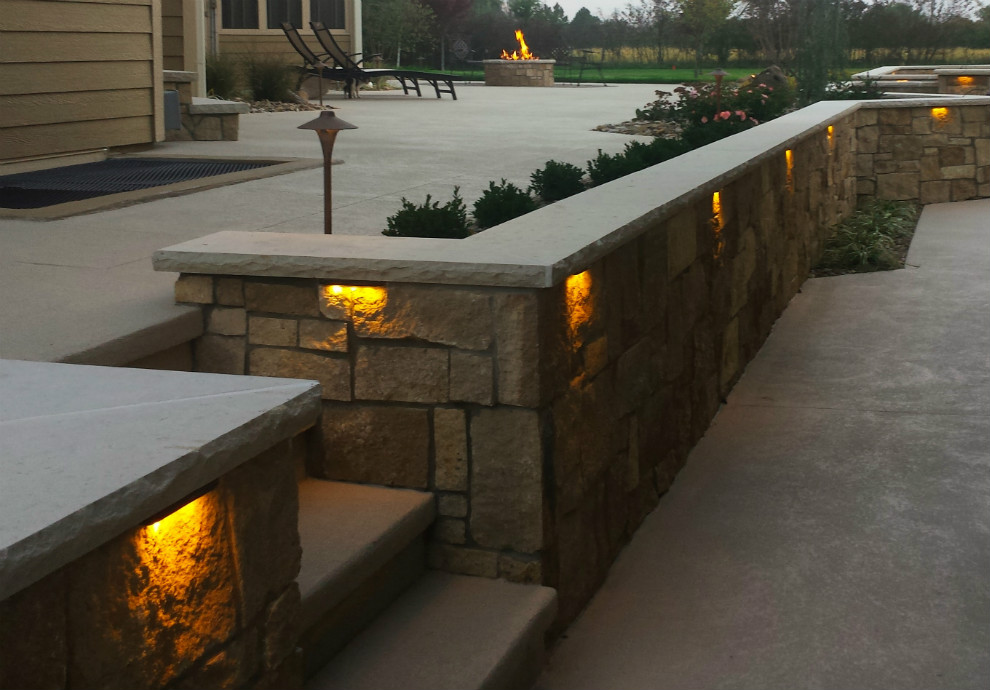 Effectively designed and implemented outdoor lighting can serve a wide range of purposes, from creating gorgeous design elements to boosting security and safety. However, it requires a professional's skills and knowledge to pull off the right lighting setup to meet your needs. For this and much more, you can rely on Lawrence Landscape.
For over 30 years our experienced landscape and outdoor services team has been providing residential and commercial clients with quality products, dependable services, and results that surpass all expectations. Whether you're looking to craft a unique, dynamic look or you want to increase outdoor security for your Johnson County home, our team is the name to trust for quality in Gardner.
To find out more about our services and outdoor lighting options, connect with our local landscaping team by calling (785) 843-4370. You can also contact us online.
Outdoor Lighting Installation in Gardner
Outdoor lighting comes in an extremely diverse array of types, appearances, and functions. At Lawrence Landscape, our team can provide:
Pathway Lighting. This option can be used both decoratively and as an added safety measure. These lights are often placed at a measured distance apart to generate a dynamic look along walkways, drives, or garden paths.
Pool Lights. These can expertly highlight your Gardner pool, adding a whole new dimension of visual appeal to an already luxurious entertainment space.
Uplighting. This is most often used to highlight favored outdoor hardscape or softscape features, such as lighting greenery or a sculpture. It is also often used to keep address numbers visible, or as a means of lighting important areas on a home's exterior.
Downlighting. Often used as a more controlled and appealing floodlight, downlighting is crafted to mimic natural light sources and most often is seen along the outside of a building's walls or along outbuildings.
Floodlights. Best used as a strong, dominant light source, floodlights are most useful in security lighting or as practical lighting to increase surefootedness in darker areas—or as a means to generate a large amount of quality light in an entertainment area.
Step Lights. These are an ideal way to avoid tripping when navigating a staircase. When designed properly and with the right professional, they can also become a very attractive part of your overall outdoor lighting design.
Wall Lighting. As opposed to downlighting, wall lighting often uses a less directed, more ambient source of light that is used to create a clearly illuminated perimeter around a home in Gardner. Though standard intervals tend to stand at around a foot apart, more irregular intervals may be chosen to create unique effects.
Benefits of Professional Lighting Design & Installation
By choosing to work with Lawrence Landscape you'll benefit from:
A gorgeous outdoor space. Any landscape can be made to look gorgeous during daylight hours, but with proper exterior lighting, a landscape can transform into something genuinely magical when the sun goes down.
Increased safety and security. Landscapes aren't the easiest to navigate in the evenings. By illuminating your space appropriately, you can avoid injury and even deter criminal activity.
Higher property value. As well as increasing the net value of your home, outdoor lighting substantially boosts curb appeal.
Better outdoor living. If you enjoy time out on the deck or patio, a well-implemented lighting design will make your evening entertainment all the better.
Frequently Asked Questions About Outdoor Lighting
When we discuss the variety of outdoor lighting options available to homeowners throughout Gardner, KS, we receive a lot of questions. That's why we've compiled some of the most common questions our customers ask, so that you can get the information you need before planning your home's outdoor lighting additions.
How much energy will my outdoor lights use?
The energy consumption of your outdoor lighting depends entirely on the lighting system and fixtures you choose to install. If you are only using a few, low-volt fixtures, the increase in your electric bill will be minimal. We suggest investing in LED lamps, as they will pay off more over time due to their energy efficiency and longer service life.
Does my outdoor lighting require maintenance?
Just like any of your garden or landscaping structures, your outdoor lighting will require some maintenance to remain effective and efficient. Common outdoor lighting maintenance includes removing dirt and debris from fixtures, replacing bulbs when needed, and/or occasional wire repair/replacement. Fortunately, Lawrence Landscape can handle any of your outdoor lighting maintenance to keep your home's exterior spaces in peak condition.
Are outdoor lights weatherproof?
Yes, outdoor lights were made to stay outside and withstand all types of weather and all seasons. When properly installed and maintained, there should be no problems with weather adversely affecting your outdoor lighting.
Can I replace bulbs and fixtures myself, or do I need an electrical contractor?
If it's just a new bulb (also called a lamp) that is needed, most homeowners can handle that on their own. However, if there is a problem with the fixture or the wiring, you'll most likely need to enlist the help of a professional. If you need help troubleshooting a problem with your outdoor lighting, our team of industry experts can get it done quickly and provide you with fast and effective solutions.
Don't see your question listed? Don't worry! Just call our friendly professionals at (785) 843-4370 or contact us online to get answers to all of your outdoor lighting questions!
Contact Lawrence Landscape for Outdoor Lighting in Gardner, KS
Our team places the needs and wants of your home above all else. We would be thrilled to use our experience and dedication to improve your outdoor space with professionally designed and installed lighting.
Our team proudly provides outdoor lighting services to all of Gardner, from West 175th Street to Kill Creek Road! Contact us online, or call (785) 843-4370 to get started today!