Our Lawn Maintenance Program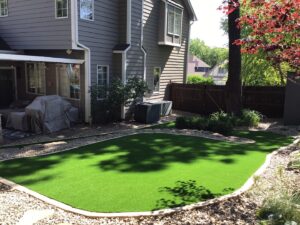 Lawn maintenance is no easy task. If you want your yard to have that lush, vibrant hue, it needs continuous fertilization, seeding, watering, and shrub care. A tight maintenance strategy will minimize bare patches and weeds while giving your grass its best chance of surviving until the next season. It's a time-consuming process for the average homeowner. A large lawn will keep you occupied for hours at a time, and all that sweat could result in a dry, infested space if you lack the expertise to do the job well. Our maintenance program includes everything your lawn needs to thrive, from pest control and mowing to planting and treatments. Each service needs to be performed at the right time of year, so we spread our service across the seasons.
The Spring Growth Phase
Your entire garden springs back to life in spring, so this is the time to encourage the proper growth and stem the wrong growth. Our spring services include:
Garden pest control: Insects become active in early spring, and the consequences can lead to household infestations. Well-timed pest eradication will protect your pets from ticks and fleas while addressing infestations before they start a new life cycle. Our process will handle insects that have been dormant over winter.
Lawn treatments: Treatments will fertilize your lawn and thicken your grass. Plants should be treated in early spring when your yard enters its most dynamic growth period. Regular treatments will improve your grass year after year.
Mowing: Grass mowing is usually handled during spring, but if your climate is mild throughout the year, you might need to cut your grass through winter, as well.
Watering: If you take good care of your lawn during spring, you can achieve thicker coverage without planting.
Summer Maintenance
The summer heat can dry your soil, so our summer program is tailored toward this challenge. Our summer maintenance includes:
Watering: Your lawn needs watering twice a week. Anything less can force root systems to the surface and make your yard more reactive to drought.
Planting: Early summer planting gives your grasses the warm soil and frequent rain they need to thrive.
Fall and Winter Services
During fall and winter, your garden will become relatively dormant, but there are still a few maintenance tasks to perform. Not all lawns grow dormant during the winter, so your cool-weather grass will need a little extra TLC. Our fall and winter services include:
Weeding: Weeds are most vulnerable during fall, so this is the perfect time to remove stubborn growth.
Leaf removal: When trees shed their leaves, they trap moisture, encourage rot, and block the light your lawn needs to survive. We'll remove them so that your lawn stays until spring.
Mowing: Grass doesn't stop growing until severe frost sets in, so you'll probably need mowing during early fall. This will prevent fungi from taking hold.
Soil aeration: Every few years, the soil needs aeration to prevent water intrusion.
Fertilization: A high-phosphate fertilizer will feed your lawn the nutrients it needs during the cold months.
Pruning: We remove damaged and diseased growth during late winter and early spring just before your garden comes back to life.
Schedule a Lawn Maintenance Service
Why Choose Lawrence Landscape?
Lawrence Landscape relies on the industry's latest research, training, and equipment because true quality reveals itself in a beautiful, thriving lawn. Our evidence-based approach achieves the best results, improving your curb appeal and view. We launched our business in the '80s and have been adding to our skills ever since. Our company might have grown a lot in the decades that have followed, but we still practice old-fashioned ethics like honesty and pricing transparency. We guarantee up-to-date knowledge and exceptional quality as an accredited landscaping business. We're an award-winning company and have earned glowing reviews because we're always friendly, courteous, and efficient. Our full-service approach means you never have to hunt down a new service provider again. The results speak for themselves.