Lawn Care Maintenance in Lawrence, Kansas
Once you get the landscape of your dreams designed and built by our expert team, you need professional services to upkeep it! We at Lawrence Landscape have the tools and expertise you need to keep your lawn looking beautiful all year long.
With over three decades of experience, we know what it takes to maintain a lawn. We can design a maintenance plan that is totally custom to your lawn, ensuring it looks just as beautiful as it did the day it was planted.
For lawn care maintenance in Lawrence, contact us online!
Our Trained Lawn Care Professionals
We have provided professional lawn mowing services since we opened our doors in 1987. In fact, most of our mowing crew has over 10 years of experience. Their trained eyes are able to look out for a variety of issues, including:
Pests
Weeds
Fertility
Watering needs
Plant pruning
We care for the yards of single-family homes, homeowners' associations, and commercial and industrial properties. If you see a property in the Lawrence area with mow stripes that are so crisp and precise that it seems perfectly gridded, there's a good chance that it's a property we maintain.
Pruning, Trimming & Edging
Do you know when to prune early-blooming shrubs like lilacs, viburnums and forsythia so you don't miss a season of flowering? If you answered "no," you're in luck—because our experienced plant maintenance crew does! (FYI: the best time is right after they are done blooming, so the next year they will bloom on "old wood").
Are your shrubs trying to take over your house? Can't see out your windows because the bushes block your view? Lawrence Landscape can solve these problems, as well as topdress mulch, redefine bed edges and apply weed prevention, which is best done in February and March.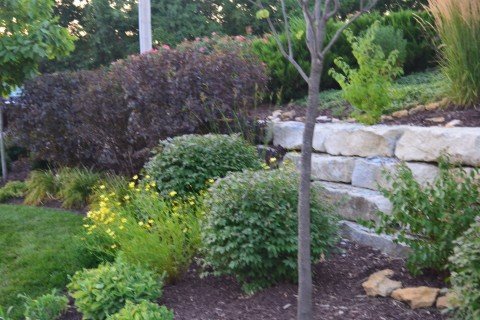 Seasonal Cleanup Services
In Kansas, we get to enjoy all four seasons…which often leaves us with a messy aftermath as the seasons change. Let Lawrence Landscape take care of your spring and fall clean-up needs! We will blow the leaves out of the beds for quick, easy removal, cut back perennials, do structural pruning on your shrubs, redefine bed edges, apply weed prevention, and topdress your mulch beds. Think of it as a preparation for renewing your landscape! Once we're done, your lawn will look refreshed and ready for the upcoming season!
Sign Up for Lawn Care Maintenance in Lawrence
Lawrence Landscape offers comprehensive annual maintenance contracts for all your lawn and landscape needs. Imagine having your outside services on autopilot —it's that convenient! No matter what your personal schedule is, your spring clean-up is guaranteed to take place: the lawn food is being applied, the irrigation system is turned on, the lawn is being mowed, and the back flow prevention has been tested. You have nothing to worry about—it's like having a personalized HOA! Lawrence Landscape provides all season service in a single monthly payment.
Contact us online to sign up for regular lawn care services in the Lawrence area!