Lawn Care and Maintenance Services in Lawrence, Kansas
Expert Weeding, Watering, Pest Control & More
Having a landscape designed for you is a great way to spruce up your property, but no matter what kind of landscape you want, you will have to maintain it. Depending on how large your landscape is or what kind you have, it can take hours to do on your own. We offer mowing services, lawn treatment, weeding, watering, pest control, and many other services to keep your property beautiful. Call Lawrence Landscape for lawn care and maintenance services to take away the hassle.
With over three decades of experience, we know what it takes to maintain a lawn. We can design a maintenance plan that is totally custom to your lawn, ensuring it looks just as beautiful as it did the day it was planted.
Our Expert Lawn Care Services in Lawrence
We have provided professional lawn mowing services since we opened our doors in 1988. In fact, our mowing service in Lawrence has experts with over 10 years of experience. Their trained eyes can look out for a variety of issues, including:
Pests
Weeds
Fertility
Plant pruning
We care for the yards of single-family homes, homeowners associations, and commercial and industrial properties. Lawrence Landscape truly cares about each property we manage, providing only the best products and tools in order to get the job done.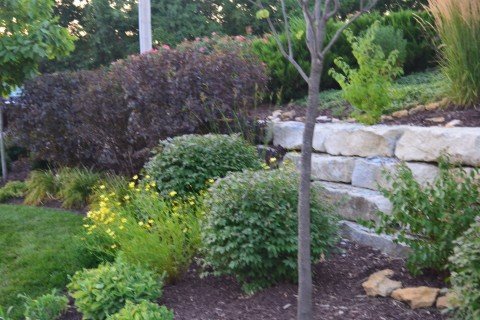 Lawn Maintenance Services in Lawrence, KS
Pruning, Trimming & Edging
Do you know when to prune early-blooming shrubs like lilacs, viburnums, and forsythia so you don't miss a season of flowering? Are your shrubs trying to take over your house? Can't see out your windows because the bushes block your view? Lawrence Landscape can solve these problems, as well as top-dress mulch, redefine bed edges, and apply weed prevention methods.
Seasonal Cleanup Services
In Kansas, we get to enjoy all four seasons, which often leaves us with a messy aftermath as the seasons change. Let Lawrence Landscape take care of your spring and fall cleanup needs! We will blow the leaves out of the beds for quick, easy removal. We'll cut back perennials, do structural pruning on your shrubs, redefine bed edges, apply weed prevention, and top-dress your mulch beds.
Think of it as a preparation for renewing your landscape! Once we're done, your lawn will look refreshed and ready for the upcoming season!
Frequently Asked Questions About Our Lawn Care Services
Having been in this industry for more than three decades, we encountered numerous questions from homeowners about our services and their lawn care needs. We've compiled some of the questions we get the most to help you better understand the services and expertise we offer in Lawrence and the surrounding areas.
What do lawn maintenance services include?
Whether you live in a single-family home, are part of a homeowners association, or have commercial property, we are committed to providing you with high-quality and comprehensive lawn maintenance. We offer a full range of pruning, trimming, and edging services, as well as seasonal cleanup. We will discuss your unique lawn maintenance needs with you and come up with a plan to keep your landscape design looking as beautiful as the day it was first planted!
What is the best lawn service company?
While we are obviously a bit biased, we would say that Lawrence Landscape offers more comprehensive services at rates that are both competitive and affordable for our customers in the Lawrence, Kansas, area. Our highly skilled team can take your landscaping ideas and make them a reality, maintaining them with care and precision so that you never need to worry about an overgrown or unsightly landscape.
Are lawn services worth it?
Customers choose to invest in our premier landscaping services for a variety of reasons. Some find themselves too busy to dedicate the necessary time to their landscaping and lawn maintenance, others trust our expert eye for landscaping design, and some are unable to tend to their lawn's needs due to physical limitations. Lawn services ultimately take the hassle out of yardwork and allow you time to focus on more important things, like spending time with family or brushing up on an old hobby. If you're interested in learning more about our unique landscaping options that are catered to your specific needs and budget, contact our friendly team today!
What's the best way to set up a consultation or appointment with a landscaper or lawn care professional during the COVID-19 pandemic?
If you are interested in setting up a consultation to discuss your lawn care and maintenance needs, simply give us a call or contact us online. We are available for virtual consultations upon request. The health and wellness of our customers and staff is our top priority during these unprecedented times, and we are fortunately able to perform the vast majority of our services with minimal or no contact.
If you have further questions about the safety precautions we are taking, beyond the CDC-recommended guidelines for increased hygiene, such as frequent hand-washing, wearing a cloth face covering, and maintaining social distance, simply give us a call at (785) 843-4370 or reach out online, and we are happy to answer them! 
Schedule Your Lawn Care Service for Lawrence, KS & Surrounding Areas
Take the headache out of remembering to maintain your landscape! Lawrence Landscape offers annual maintenance contracts for residential and commercial properties. We will figure out what your specific lawn care and maintenance needs are and only charge you for the things you ask for! We always arrive on time and make sure your landscape looks impressive when we leave. You never have to worry about lawn care services at your Lawrence property again. Lawrence Landscape provides all-season service in a single monthly payment.