Meet Our Team
Get to know the team of professionals at Lawrence Landscape. Our friendly and experienced crew is here to provide you
with first-class landscaping and exceptional customer service. Call us today at 785-843-4370 to request a quote for
landscaping, maintenance, and more.
Glen Westervelt — President And CEO
Glen Westervelt started Lawrence Landscape in 1987, bringing many years of landscape contracting experience to the team as the company's President and CEO. He grew up in Manhattan, Kansas, where he was involved in a family-owned nursery and landscape contracting business. Glen graduated from K-State with a degree in Business Management. In the spring of 1987, Glen moved to Lawrence and started Lawrence Landscape.
He's involved in every aspect of each business in the Lawrence Landscape family, which includes Lawrence
Landscape, Midwest Custom Pools, and LLI Tree Farm, acting as president for each. His favorite part of the
job is finding new challenges for his staff and developing long-term relationships with clients. In his
spare time, he enjoys boating, upland bird hunting, and spending time with his wife and family.
---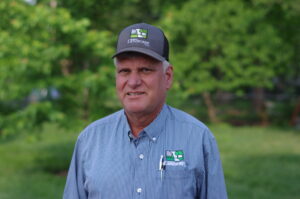 Frank Male — Co-Owner
Frank Male joined Glen in 1987 at Lawrence Landscape, providing a variety of vital skills as a utility player for the team. After working in the field for many of those years and serving as production manager, he has transitioned into the sales side of the business.
Originally from Strongsville, Ohio, Frank attended K-State and graduated with a bachelor's degree in Agriculture Mechanics. With Kallie his wife, they have been blessed to have 4 adult children. When Frank isn't at Lawrence Landscape, you can find him at home, south of Eudora, on his hobby farm. There, he has several leftover 4-H projects, including a horse named Dusty and a herd of beef cows. One of the greatest pleasures in his life is going snow skiing with his kids and extended family.
One of the many points of pride that Frank has with Lawrence Landscape are the numerous certifications that the team has earned over the years. Currently, the company has two Certified Landscape professionals and ten Certified Landscape Technicians, which is the most of any company in the Kansas City and Topeka metro areas.
---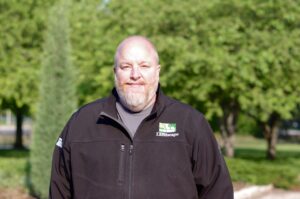 Dan Newsom — Sales Manager
Dan Newsom has been with Lawrence Landscape off and on for nearly 25 years, progressing through various roles. Now, as General Manager, Dan utilizes his landscape design skills, as well as focusing on understanding and fulfilling the needs of the customer to ensure that our projects are completed to the highest standards.
Dan works will all divisions of the company to promote sales activities, and marketing campaigns and to develop efficient processes to accomplish the numerous projects Lawrence Landscape undertakes.
Originally from Western Kansas, Dan grew up on his family's farm, where he always enjoyed working outdoors. That love of working outdoors continued into college, where his landscaping career began while he was attending K-State. He graduated from K-State with a degree in Landscape Design.
When Dan isn't at Lawrence Landscape, you can find him spending time with his family, woodworking, and golfing.
---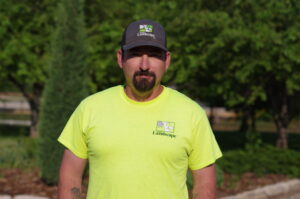 Chris Culp – Production Manager
Chris Culp is a seasoned Production Manager at Lawrence Landscape since August 2010. With a strong background in managing crews and organizing project schedules, Chris plays a pivotal role in ensuring the smooth and efficient execution of every landscaping project at Lawrence Landscape.
Having dedicated over a decade to the company, Chris has gained extensive experience and in-depth knowledge involved in landscape project management. His expertise lies in coordinating multiple teams, overseeing material allocation, and maintaining strict project timelines.
---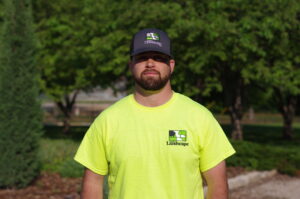 Devin Forio — Maintenance Manager
Devin Forio is a dedicated and experienced professional who has been an integral part of the Lawrence Landscape team since May 2012. As the Maintenance Manager, Devin brings proactive and reactive assistance, ensuring the seamless operation and upkeep of landscapes under his care.
Being from Lawrence, he has deep roots in the community and is an alumnus of Lawrence High School and Johnson County Community College. Before joining Lawrence Landscape, Devin's career path included serving as an EMT and a firefighter.
One of Devin's greatest joys in his role at Lawrence Landscape is witnessing the transformative power of landscapes. He takes immense pride in working closely with clients, helping them bring their visions to life, and turning their outdoor spaces into sources of pride and beauty.
Beyond the professional realm, spending quality time with his family and friends is his top priority when he's not at Lawrence Landscape. Additionally, he enjoys indulging in his favorite hobbies, such as golfing, fishing, and hunting.
His work ethic, combined with his genuine care for people and passion for transforming landscapes, make him a trusted and respected professional in the industry.
---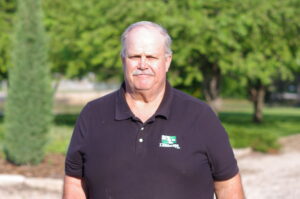 Skip Foster — Lawrence Landscape Tree Farm
Skip Foster is the Tree Farm Manager at the Lawrence Landscape Tree Farm. With 11 years of experience in managing the daily operations of the tree farm. Skip brings a wealth of knowledge and expertise to ensure the growth and success of the production operation.
Skip graduated from Missouri Western State University with a Bachelor's degree in Education in 1983. His favorite part of the job is nurturing and growing over 6000 trees in the production operation. The opportunity to witness the transformation of saplings into majestic trees brings him immense joy.
Moreover, Skip's passion for people shines through his dedication to helping customers find the perfect trees, shrubs, or hard goods to enhance the beauty and charm of their homes.
When Skip isn't at the Tree Farm, he cherishes spending time with his family. With three grown children and four grandsons, family is his top priority. Additionally, Skip is a sports enthusiast and enjoys attending various sporting events, especially football. Prior to joining Lawrence Landscape, he coached football for 27 years, highlighting his deep love for the sport.
For potential customers, Skip wants to emphasize that Lawrence Landscape is an exceptional company to work with. Under the leadership of Glen and Frank, the owners, the company prioritizes putting customers first and delivering quality work.
---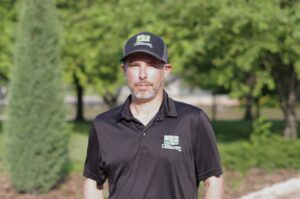 Billy Kelly – Sales & Design
Billy Kelly is a Sales-Design professional with a passion for creating unique landscapes and a knack for building strong client relationships. With 17+ years of experience in the industry and a solid educational foundation from Kansas State University, Billy brings a wealth of knowledge and expertise to every project.
Since February 2019, Billy has been a valuable member of the Lawrence Landscape Inc. (LLI) team. What sets Billy apart is his love for the variety of work in his role. No two jobs are the same, providing him with constant opportunities for creative problem-solving and innovation. Billy's expertise resides in new construction, irrigation, lighting, retaining walls and patios, pergolas and
fencing, landscape remodeling, and drainage.
Outside of work, Billy finds joy outside of work by spending quality time with his wife and three daughters.
---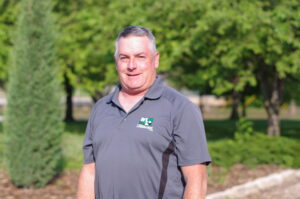 Leonard Bremenkamp — Commercial Landscape Estimator
Leonard Bremenkamp is a dedicated sales team member who has been a valuable asset to Lawrence Landscape since 1999. With a focus on commercial sales and project management as the commercial estimator, Leonard brings extensive experience and expertise to his role.
Originally from Colby, Kansas, Leonard's roots in the state run deep. He pursued his education at Kansas State University, graduating with a bachelor's degree in Agriculture. This academic background, coupled with his years of experience in the industry, provides Leonard with a comprehensive understanding of the landscape business and enables him to excel in commercial sales and project management.
When Leonard isn't at Lawrence Landscape, you can find Leonard outdoors enjoying nature with his friends and family.
---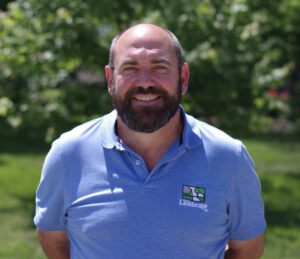 Cory LeMay – Sales & Design
Cory LeMay has worked in the landscape industry since 1983, starting in Wichita working for his Uncle doing grading, construction, and mowing. He graduated from Kansas State University, where he earned a degree in Landscape Design. While attending college Cory worked at a nursery expanding his knowledge in greengoods. He worked there for 15 years before moving to and owning a landscape company in Manhattan, KS.
Life has brought Cory to the Lawrence and Kansas City area where he is excited to bring his experience and design flair to Lawrence Landscape and help expand the LLI market to the SW Kansas City area. Cory's background and focus have been in residential new construction, specializing in large-scale homes.
Cory has extensive experience in site planning and grading, combined with a passion for design to bring a property into a cohesive planned entity that is both functional and aesthetically exciting.
---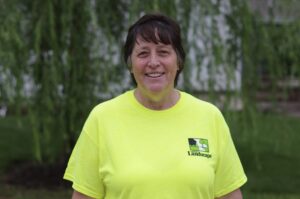 Brenda McFadden- Landscape Designer
Brenda McFadden is a Landscape Design professional with a passion for creativity and a strong background in 3D Landscape Design, Graphic Design, and Art. With 7 years of experience in the field and a solid educational foundation from JCCC, Brenda brings a unique blend of artistic vision and technical expertise to every project.
Since joining the company in 2022, Brenda has been a valued member of the Lawrence Landscape Inc. (LLI) team. Her specialty lies in creating captivating outdoor spaces that blend aesthetics with functionality, utilizing her expertise in 3D landscape design to bring visions to life.
What Brenda enjoys most about her job is the opportunity to be creative and work alongside a talented group of individuals.
Beyond the workplace, Brenda finds enjoyment and inspiration in various activities whether it's spending quality time with her family, tending to her garden, creating artwork, or attracting hummingbirds.
---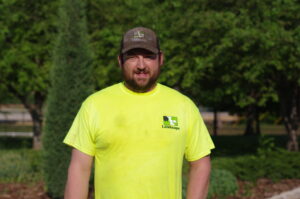 Luke Howard – Mechanic
Luke Howard is a skilled and experienced Mechanic at Lawrence Landscape. With a passion for automobiles and a solid educational background, Luke has honed his expertise over 17 years in the field.
Luke's educational journey began with graduating from LHS, where he cultivated a strong foundation for his mechanical career. Wanting to expand his knowledge and skills, he pursued a year of specialized training at Universal Technical Institute in North Carolina, further solidifying his understanding of automotive mechanics.
His extensive expertise allows him to provide efficient and reliable repairs, ensuring the smooth operation of vehicles under his care. Recently joining the Lawrence Landscape team, Luke brings his wealth of experience and passion for mechanics to contribute to the company's success.
When Luke isn't working at Lawrence Landscape, you can often find him immersed in the world of KU basketball. "Rock Chalk!"
---
Kim Reily – Accounts Payable/Customer Service
Kim Reily is a dedicated Accounts Payable/Customer Service professional at Lawrence Landscape. With over 25 years of experience in happily assisting customers and handling bookkeeping, Kim brings a wealth of expertise to her role.
Since March of 2022, Kim has been a valuable member of the Lawrence Landscape team her dedication to ensuring prompt and accurate payments while maintaining strong relationships with vendors and clients contributes to the smooth functioning of the company. One of Kim's favorite aspects of the job is eagerly awaiting the opportunity to connect with potential clients and expand Lawrence Landscape's amazing customer base.
Outside of work, Kim embraces a fulfilling and active lifestyle. They enjoy lake life, traveling, and supporting local sports teams, including the Huskers. Spending quality time with family, friends, and beloved fur babies is a priority for Kim, as it allows her to recharge and find joy in the company of loved ones.
---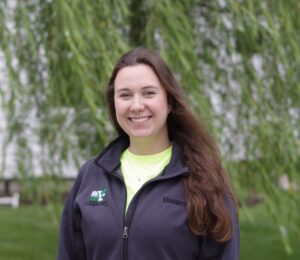 Macy Bruton – Accounts Receivable
Macy Bruton is valuable member of the Lawrence Landscape team since 2019. Macy's journey with Lawrence Landscape began after graduating from Kansas State University with a degree in Business, which provides her with a solid foundation for her role in Accounts Receivable.
As an Accounts Receivable Specialist, Macy plays a vital role in assisting clients, managing phone calls, sending invoices, receiving payments, and maintaining accurate records of accounts. Her attention to detail and commitment to providing exceptional customer service ensure smooth financial operations and client satisfaction.
Macy particularly enjoys the responsibility of processing payments, as it allows her to contribute to the financial success of the company while building positive relationships with clients.
Outside of the office, Macy embraces a vibrant and fulfilling life. She loves traveling to visit friends and family, enriching her experiences and creating lasting memories. When she's not on the move, you can often find Macy enjoying the great outdoors, playing with her beloved dog, and immersing herself in the art of cross-stitching. These hobbies allow her to unwind and indulge her creative side.
---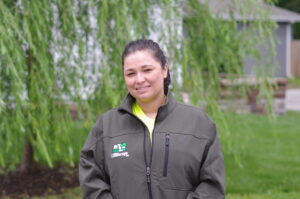 Stacey Bowen – Billing and Payroll Administrator
Stacey Bowen is a proficient Billing and Payroll Administrator at Lawrence Landscape. With a specialty in invoicing for the maintenance department, Stacey has been an integral part of the team for 2 years.
Stacey came to LLI with experience in construction admin work and project coordinating. Her dedication to accuracy and efficiency ensures that payroll processes and invoicing for the maintenance department are handled seamlessly.
One of Stacey's favorite aspects of the job is the opportunity to work alongside a great group of people. Outside of work, Stacey treasures spending time at home with her family.