Brick Fire Pit Installation
Outdoor Brick Fire Pit Design & Installation in Lawrence, KS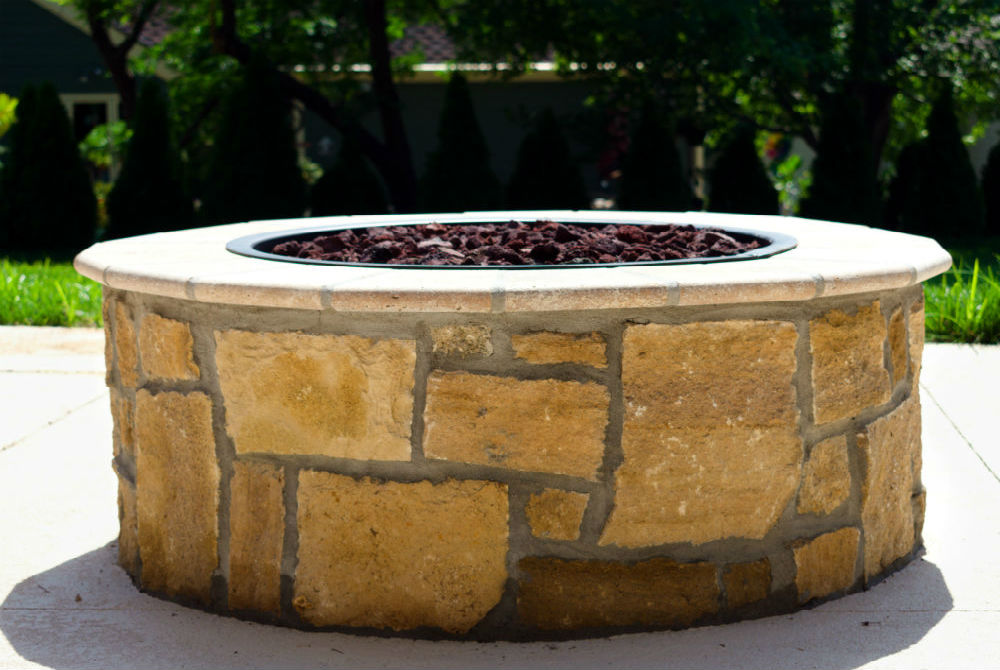 Fire pits come in all shapes and sizes. From round and elevated, to square and set into the landscape, we have seen them all, and we have built them all. Adding a fire pit to your landscape creates a warm and inviting ambiance. It is an attractive feature that adds value to your home that you will enjoy year after year.
Benefits of Brick Fire Pits in Lawrence
Brick fire pits create a cozy gathering place for friends and family. It is a social hot spot that is guaranteed to attract good company and lively conversations. Fire pits keep the chill away so you can comfortably enjoy the evening sky and the stars gleaming in the distance above. When you install a brick fire pit in Kansas, it transforms your patio into a multi-season space you can enjoy year-round. It is the perfect place to roast marshmallows and make memories that will last a lifetime.
Contact Lawrence Landscape at (785) 843-4370 for more information about the benefits of brick fire pits in Lawrence. We will help you choose the right fire pit for your home and lifestyle.
Frequently Asked Questions About Brick Fire Pits
What Kind of Bricks Are Used for Fire Pits?
Kiln-fired bricks are the most commonly used bricks for fire pits. It's also possible to use many brick paver stones or landscaping bricks as long as these have been kiln-fired.
Will Bricks Explode in a Fire Pit?
The wrong bricks can explode, and the wrong mortar can cause the fire pit to crumble and fall apart. This is why it is imperative to use kiln-fired bricks and fireplace mortar.
What Are Fire Bricks?
Fire bricks are blocks of ceramic material specifically designed to line fire pits. They are designed to withstand high temperatures and feature low thermal conductivity, which translates to increased safety and enhanced energy efficiency.
What Should I Put in the Bottom of My Fire Pit?
Most fire pits have a metal heat shield that is covered with either sand or gravel. These are easily installed and relatively inexpensive, and they provide a superior heat shield. The sand/gravel helps absorb and distribute the heat evenly across the fire pit, protecting it from damage.
We know you have plenty of questions about fire pits, and we have all the answers you are searching for. We invite you to contact Lawrence Landscape at (785) 843-4370 to speak with our team. 
Schedule Outdoor Living Design Services in Lawrence, KS
From swimming pools to fire pits, the team at Lawrence Landscape takes pride in every task we perform. Since the early 1980s, we have helped homeowners in the region create custom outdoor living areas that are tailored to their lifestyles. Whether you enjoy hosting outdoor barbeques or want a place where you can curl up with your favorite books, we have the skills and expertise to bring your vision to life. When you want to add a brick fire pit to your home, our team will get to work designing and building a custom pit that will blend seamlessly into your landscape so that it looks as if it was included in the original plans.
Contact Lawrence Landscape at (785) 843-4370 to learn more about our outdoor living design services. It is our pleasure to help you transform your home into a comfortable oasis where you can rest and relax with your friends and family.