Landscape Drainage Services in Lawrence, Kansas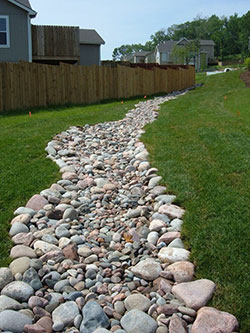 Water is essential for plant life, but in the wrong place or in the wrong concentrations, it can be a destructive force that may lead to costly or irreversible damage to your home and property. The drainage experts at Lawrence Landscape offer a number of effective drainage solutions to solve any existing issues and prevent new ones from occurring.
For over 30 years, Lawrence Landscape has been helping homeowners in the Lawrence, KS area with drainage services that include the design, installation, and maintenance of surface drains, French drains, dry stream beds, and more.
Contact us online schedule a consultation for professional drainage services in the Lawrence area! 

Common Landscape Drainage Problems & Solutions
Drainage problems should be addressed as soon as they are discovered to minimize the damage. Common issues include:
Low Spots
Uneven or improper grading can cause depressions or low areas in your yard where water collects during periods of rainfall or melting snow. Over time, this standing water can kill the grass and leave the ground spongy. Re-grading the area or installing a stream bed can effectively redirect the water and restore proper drainage to your landscape.
Improper Plant Bed Design
Plant beds add color and visual interest to any landscape design, but if they are engineered incorrectly, water may sit in the plant beds or move towards your home, causing damage to the plants or your foundation. The skilled professionals at Lawrence Landscape will ensure your flower beds are properly graded to maximize water drainage and plant growth.
Gutter & Downspout Maintenance & Design
Clogged, broken, or improperly sized gutters can allow concentrated amounts of water to overflow onto plant beds or hardscaping. Leaky or poorly situated downspouts can have a similar effect and should be redirected or replaced as needed.
Slope Towards the Foundation
Water should flow away from your home's foundation (rather than towards it) in order to prevent deterioration of the foundation surface and to stop water from entering your living space. In addition to re-grading, a French drain can be installed around the perimeter of your home to lead the water away before it can cause damage.
Hardscape Surfaces
Solid surfaces such as sidewalks, patios, and driveways also need adequate drainage to prevent pooling. Surface drains or regrading can help to solve these issues.
Signs You May Need Professional Drainage Services
If you're wondering whether to call Lawrence Landscape for drainage services, check out our list of warning signs to see if you recognize any of the following symptoms:
Water stains. Staining on your basement walls or flooring is indicative of a leak in the foundation.
Cracks in the foundation. While there may be any number of causes for this problem, it is important to investigate before further damage can occur.
Puddles. Standing water in your yard, driveway, or other surfaces around your home is a sure sign that excess water is unable to drain away from the area.
Waterfalls. If the water cascades over your gutters during periods of heavy rainfall, they may need to be cleaned, repaired, or replaced.
Dead grass. Grass can't grow in areas that are always saturated with water as it deprives the plant material of much-needed oxygen and sunlight.
Schedule Landscape Drainage Services in Lawrence, Kansas
The experienced, skilled professionals at Lawrence Landscape can solve all your drainage issues with custom designed solutions to fit your home and budget.
Call us today at 785-843-4370 to schedule drainage services in Lawrence, or contact us online and let us know how we can help.