Patios & Walkways in Lawrence, KS
Patios and walkways can make a huge impact on your outdoor space. Quality patios give you the opportunity to enjoy your outdoor space. Walkways allow you to navigate through your landscape with ease.
At Lawrence Landscape, our team has provided expert patio and walkway landscaping services in the Lawrence area for decades. Our attention to detail, skilled experts, and quality materials make us the team you can trust for your landscaping needs.
For patio and walkway landscape services in Lawrence, KS, contact the team at Lawrence Landscape or give us a call at (785) 843-4370 today!
Patio Design & Installation in Lawrence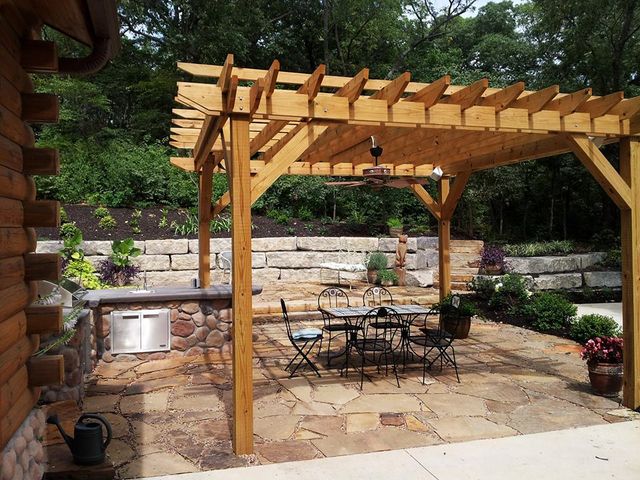 There are a few factors to consider when designing your patio. These include: the purpose of the space, materials, and desired size. You may have a true outdoor living space in mind or want your patio to be an area of rest and relaxation. No matter your vision, the Lawrence Landscape experts can walk you through the design process while recommending the best materials.
Common materials used in patios are:
Brick
Concrete
Stone
Stamped concrete
After the design of the patio is determined, our expert builders will complete the patio installation to bring your vision to life in your landscape.
Benefits of Patios
A backyard patio is a perfect place to enjoy the great outdoors, with benefits that include:
Return on Investment
Homebuyers appreciate quality finishes both inside and outside of the home. A patio installation from Lawrence Landscape can entice buyers to choose your home, as they envision their own family enjoying the outdoor space.
Increased Square Footage
A patio is an extension of your indoor living space and can be used to prepare meals or for dining, relaxing, or entertaining.
Improved Lifestyle
Spend more time with family and friends and enjoy the tranquility of nature from your own backyard.
Patios are easy to maintain, reducing the amount of time you need to spend on yard work and requiring little more than an occasional spray with a garden hose.
Ready to get started on your patio? Call the Lawrence Landscape team today at (785) 843-4370 or contact the team to get started!
Walkways for Your Kansas Landscape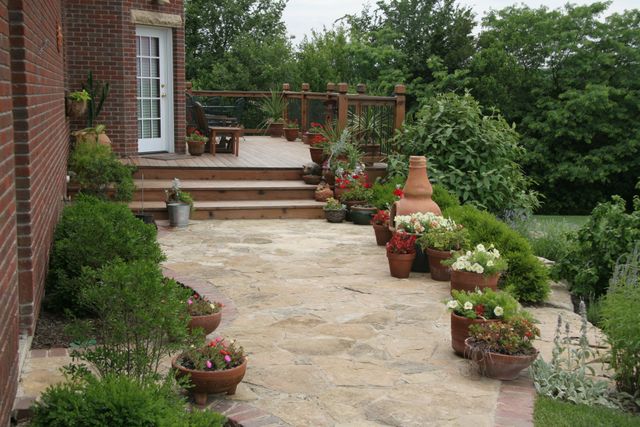 Walkways are a great way to create a path through your beautiful backyard or get from the house to a relaxing patio or outdoor living area. Not only will you love the use of the walkway, but it can boost the curb appeal of your home!
Our experts provide an array of material options for the installation of your walkway, such as:
Red clay pavers
Flagstone surrounded with pea gravel
Colored concrete
Stamped concrete
And more!
We consider the size, layout, slope, current trends, and more when we design your walkway, so you can be sure it will work properly and look beautiful in your outdoor area.
Benefits of Walkways
Adding one or more walkways to your Lawrence, KS, home is an easy way to enhance your landscaping and add value to your property. Benefits of a custom walkway installation include:
Enhanced Safety and Security
Walkways provide safe passage around your property and eliminate the risks of walking on uneven ground. During inclement weather, a designated walkway can prevent slippage and define the path to your door.
Ease of Access
A walkway can bridge the area between defined spaces in your yard while preventing damage to your lawn or plants.
Aesthetic Appeal
You can instantly improve the curb appeal of your home and make it more inviting by adding a walkway installation constructed from materials such as flagstone, stamped concrete, or clay paving stones.
Call us today at (785) 843-4370 or contact our experts at Lawrence Landscape to discuss how we can create the best walkway for your landscape. We have something for everyone!
Get Started on Your Patio or Walkway in Lawrence
For patios and walkways you can enjoy for years to come, choose the Lawrence Landscape team. Serving Lawrence, Baldwin City, Midland, Ottawa, Tonganoxie, Eudora, and beyond, we're the go-to landscaping contractor for your walkway and patio needs!
For more information on patio and walkway services in Lawrence, call us today at (785) 843-4370!
---
Frequently Asked Questions
How do I hire the right patio contractor?
Ask these questions before hiring a professional to construct your new patio:
Do you have local references?
Will you provide a detailed written estimate?
How long have you been in business?
Can I see examples of your work?
What is the best material for a walkway installation?
Stone walkways have a natural, rustic appeal, with a vast selection of colors, sizes, and textures. Clay brick pavers add a sense of elegance and history to a property, while concrete may be customized with colors and textures to match exterior finishes.
What is the difference between hardscape and softscape?
Hardscaping describes the hard, nonliving matter in a landscape, such as the bricks, concrete, or stone used for a patio or walkway, while softscaping is the flowers, trees, and other living components.
Contact the team at Lawrence Landscape or give us a call at (785) 843-4370 today.