Outdoor Living Landscapers in Lawrence, Kansas
Landscape Design Services in Lawrence, KS
Beautiful summer weather allows Lawrence residents to spend more time outdoors playing, relaxing, and entertaining. Professional outdoor living design services from Lawrence Landscape can help you make the most of this precious time with outdoor living space renovations!
The highly skilled team of professionals at Lawrence Landscape has over three decades of commercial and residential landscaping experience. Using the finest quality materials and latest technology, we can help transform your existing landscape into a comfortable, functional, and aesthetically pleasing outdoor living space that you can enjoy for years to come.
Landscape Design & Installation
Do you want to create a space for outdoor relaxing? Grilling? Entertaining? No matter your vision, call the landscape design professionals at Lawrence Landscape. We can talk through the design elements you have in mind for your landscape, create, and install them to bring your vision to life.
We offer landscape design and installation services including:
Fire features
Outdoor kitchens
Pergolas and arbors
And more!
Fire Feature Design & Installation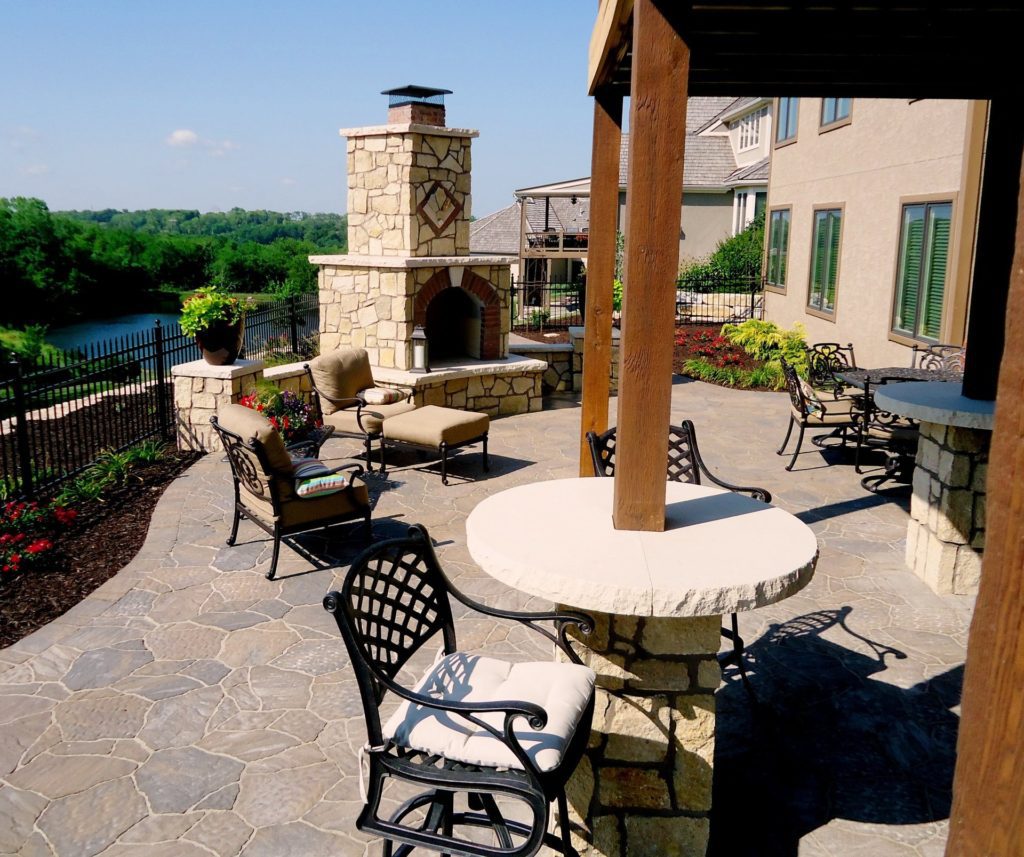 There's nothing like sitting around a roaring fire, and no one can help you design the perfect fire feature like Lawrence Landscape. Options include:
Fire Pit Design & Installation
The design and placement of your outdoor fire pit is paramount to the safety and enjoyment of this popular backyard feature. Whether you intend to use your fire pit for warmth, ambience, or cooking, consider the following design options:
Brick Fire Pits – This classic material is ideally suited for this type of application and lends a rustic flair to your outdoor space.
Cast Iron Fire Pits – A freestanding, above-ground fire pit constructed from cast iron is a beautiful addition to any outdoor living space, and the properties of the metal help to produce consistent, radiant heat to keep you warm on chilly nights.
Natural Stone Fire Pits – A fire pit constructed from your choice of natural stone provides a unique connection to the outdoors while enhancing the beauty of your surroundings.
Outdoor Fireplace Design & Installation
An outdoor fireplace is the ultimate luxury addition to your Lawrence home, offering unlimited design options and a wide array of material and feature options to suit every style and budget. Whether you opt for a modest or grand design, Lawrence Landscape can help you achieve the look and feel you desire. Options and features include:
Gas Fireplace – A natural gas fireplace is quick and easy to operate, with little maintenance required, and is perfect for day to day use.
Wood-Burning Fireplace – Enjoy the smells, sights, and sounds of a crackling wood fire for a more authentic outdoor experience.
Features – Personalize your fireplace design by adding a mantel, hearth, built-in wood storage, or grille.
Landscape Lighting
Lighting is critical for functionality, beauty, and safety of your landscape. Landscape lighting can help you enjoy your space long after the sun goes down, and it can also deter trespassers from entering your property.
At Lawrence Landscape, we offer many different outdoor lighting design and installation services including:
Pathway lighting
Pool lighting
Uplighting
Downlighting
Floodlights
Step lighting
Wall lighting
And more!
Outdoor Kitchen Design & Installation in Lawrence, KS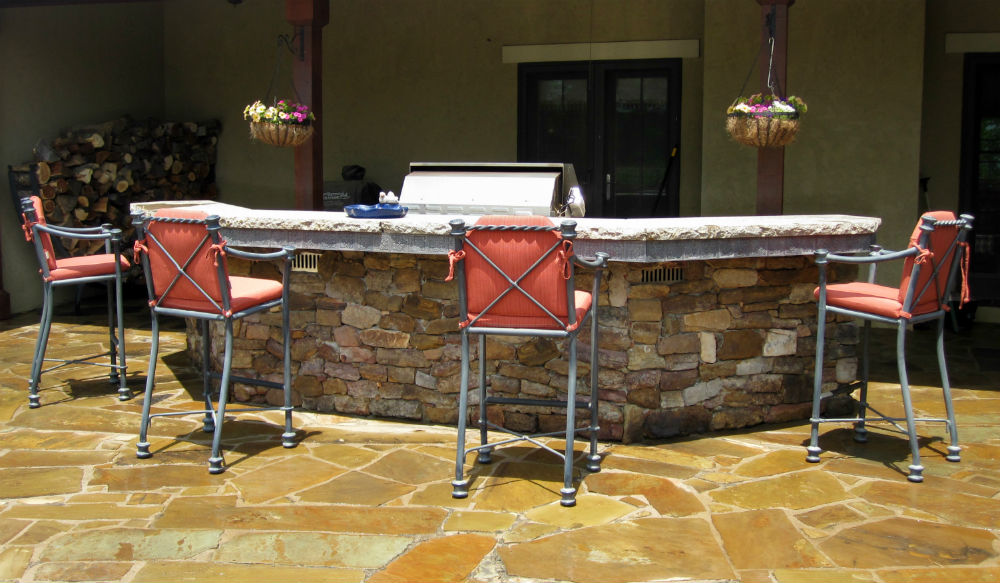 Spend more time with family and guests and less time indoors with a custom outdoor kitchen from Lawrence Landscape. Your design is only limited by your imagination, and we are happy to provide the inspiration and expertise you need to turn your dream of a having a functional outdoor kitchen space for dining and entertaining into reality.
Consider incorporating any or all of the following elements into your design:
Bar with seating – Serve guests food and drinks at the bar, complete with comfortable seating.
Fire features– Cook your main course, side dishes, or dessert (s'mores, anyone?) over your outdoor fire pit or on the grill in your built-in outdoor fireplace.
Outdoor grill – No outdoor kitchen is complete without a grill for that authentic, backyard flavor you can only get from an open flame.
Outdoor smoker – Create mouthwatering smoked meats with your own custom-designed backyard smoker.
Range and/or oven – Prepare your entire meal outdoors, with options for baking, and stovetop cooking.
Plan Your Custom Outdoor Kitchen
Patios & Walkways
Patios and walkways give you the opportunity to enjoy your landscape and navigate through your landscape easily. At Lawrence Landscape, we can design and install patios for the ultimate outdoor experience. Using brick, concrete, stone, or other materials, we can create a patio or walkway as part of your outdoor living space.
Custom Arbors & Pergolas in Lawrence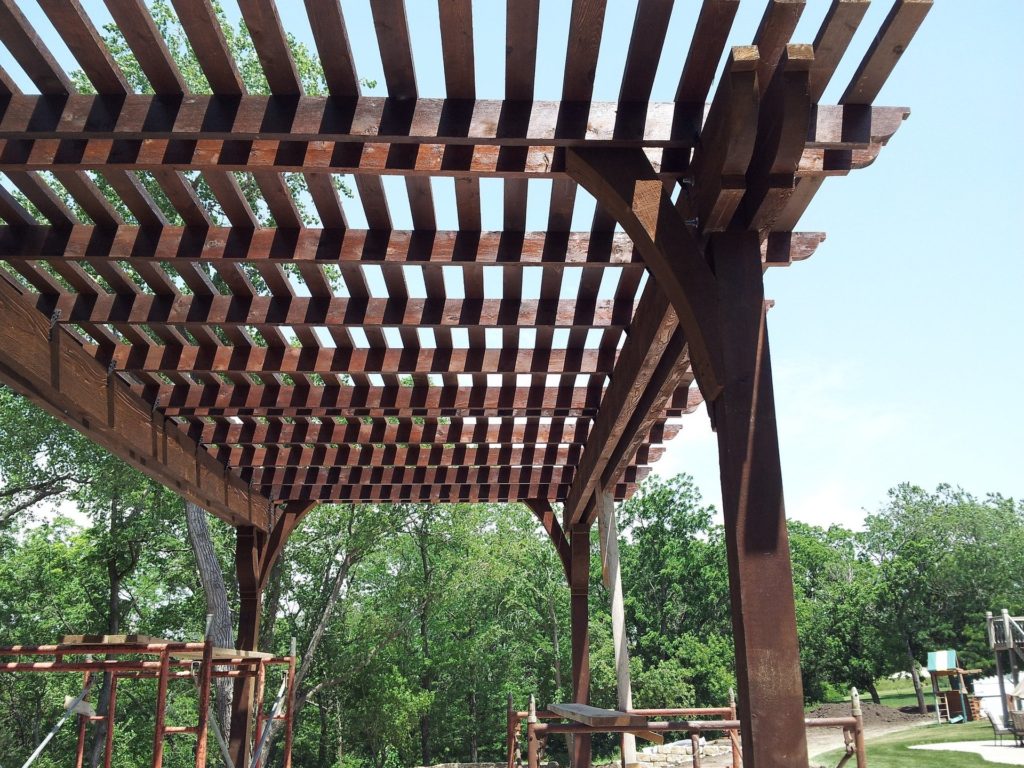 Define your outdoor living space, provide welcome relief from the sun, and add visual interest to your landscape with a custom arbor or pergola from Lawrence Landscape. We use only the finest quality materials and superior craftsmanship to ensure your new structure will withstand the test of time.
Water Features in Lawrence
Custom water features can add to the aesthetic of your landscape, absorb surrounding noise pollution, enhance air quality, and more! Our landscape designers can create and install bird baths, fountains, ponds, and waterfalls to create the landscape you've always wanted.
Schedule Outdoor Living Design Services in Lawrence, KS
Whether you have ideas or need inspiration for your outdoor landscape design, our team at Lawrence Landscape is who you need to call!
Contact our full-service landscaping company today to get started on your next landscaping project in Lawrence, Baldwin City, Eudora, Midland, Perry, Tonganoxie, and surrounding areas!