Landscaping Services in Eudora, Kansas
With orchards, vineyards, and access to the Kaw River, Eudora has a unique and beautiful natural landscape. To bring beauty and unique elements to your own landscape, call the professionals at Lawrence Landscape. We help residents in Eudora make the most of their landscapes through thoughtful selection and planting of trees, shrubs, and perennials, as well as expert incorporation of hardscaping and design elements.
At Lawrence Landscape, we bring the expert knowledge and top-quality landscaping services to Eudora and surrounding areas. Our designers and landscapers are among the best in the business, and we use only the highest-quality products and latest technology to ensure your satisfaction with the finished product.
For landscaping services in Eudora, contact us online!
Custom Landscaping in Eudora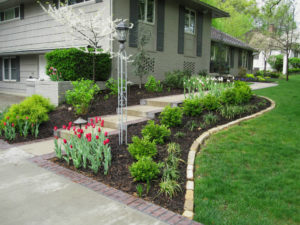 Whether you have a clear vision for how you want your landscaping to look or need assistance or with your design, Lawrence Landscape can help. We offer a wide range of landscaping services throughout Eudora and work closely with our customers at each stage of the process to achieve the dream of a more beautiful, functional outdoor space. Our services include:
For quality landscaping services, call Lawrence Landscape today at (785) 843-4370!
Lawn Installation and Maintenance in Eudora
Having a lush, green lawn is a source of pride among Eudora homeowners. Lawrence Landscape can help you achieve that goal with lawn mowing and maintenance and treatment services, which include:
Professional mowing services
Seasonal cleanup
Lawn treatment and fertilization
Outdoor Living Design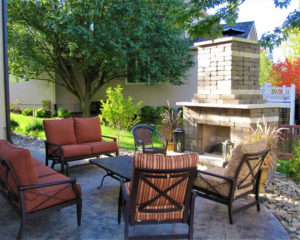 Make the most of your time outdoors with outdoor living design elements that enhance your lifestyle and add visual interest to your landscape. Options include:
Arbors and pergolas
And more!
To start on your outdoor living landscape design, call the professionals at Lawrence Landscape today at (785) 843-4370!
Outdoor Lighting
Proper outdoor lighting is essential to your safety, but it can also highlight a focal point in your landscape design, illuminate your entertaining space, and allow you to enjoy more time outdoors with friends and family.
We offer the highest quality outdoor lighting on the market today and provide expert outdoor lighting design, installation, and maintenance services in Eudora.
Patios & Walkways
Provide safe passage for family and guests to your front door and various destinations around your landscape with a custom walkway! Our patios and walkways can be constructed from a variety of natural or man-made materials such as natural stone, colored or stamped concrete, red clay pavers, and more!
Contact us today for patio and walkway design services in the Eudora, KS area!
Tree & Shrub Planting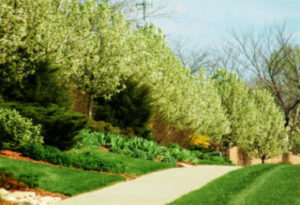 As the focal point of any landscape design, trees and shrubs provide a number of important benefits to your landscape:
Supply much-needed shade during the summer months
Help reduce the cost of cooling your home
Add layers of color
Provide a windbreak
Act as privacy screening
For tree and shrub services in the Eudora, contact the experts at Lawrence Landscape today!
To guarantee the quality and integrity of the trees and shrubs we install, we started our own field growing operation in 2001. Our tree farm has since grown to over 30 acres in size and is home to over 7,000 trees and shrubs in various stages of growth.
Our plants are harvested during their dormant period and stored securely in bins for ease of selection—customers are also welcome to view our vast selection of plants in the field and tag their own.
No job is considered to be too big or too small for Lawrence Landscape! We have the equipment, experience, and knowledge to install any of the following in Eudora:
Flower beds
Shrubs
Small perennials
And more!
Schedule Landscaping Services in Eudora, KS
Ready to get started creating the landscape of your dreams? The team of highly skilled professionals at Lawrence Landscape is ready to make your dreams come true with a wide range of landscaping services to suit every preference, style, and budget.
Call us today at (785) 843-4370 to request a quote for your landscaping project, or contact us online to schedule landscaping services in Eudora!