Hours of Operation
Business Hours
March 11 - June 30
Monday - Friday: 7:00 AM - 5:00 PM
Saturday: 9:00 AM - 2:00 PM


July 1 - August 31
Monday - Friday: 7:00 AM - 5:00 PM


September 1 - October 31
Monday - Friday: 7:00 AM - 5:00 PM
Saturday: 9:00 AM - 2:00 PM


November 1 - November 24
Monday - Friday: 8:00 AM - 5:00 PM
Saturday: 9:00 AM- 2:00 PM


December, January, February, and March
By appointment
OUR PRODUCTS
Visit Our Beautiful Tree Farm
Did you know our selection of mulch, rock, trees, and shrubs are readily available for you to pick out, and take home?
Our seasoned professionals are eager to help you pick out the options that suit your landscaping needs.
We also offer drop-off and installation services for those in need of our assistance
The Tree Farm History
Lawrence Landscape started their field growing operation in 2001 to supply quality trees for their landscape installation projects. We wanted to be certain not only of the quality of the trees we were installing but also the livability of the trees in our climate. It has been our experience that trees grown in a lighter soil mix or in a protected environment did not perform as well as the trees locally grown in heavier soils and our weather. With this in mind, we expanded our farm from just a few acres to over 30.
We grow only trees and shrubs that are for this area. The deciduous shade and ornamental trees that we harvest range from a 2" to 4" trunk diameter and our conifers range from 4' to 8'. Currently, we have over 7000 trees and shrubs in production. We harvest during the dormant season and put the trees in bins for your selection or we welcome you to come out and tag your own in the field.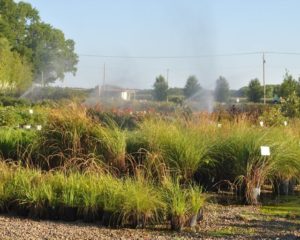 Get Directions To The Farm
The Tree Farm is located at 1193 North 1250 Road in Lawrence, KS. When you see Lawrence Landscape's lime green gates and the trees, you're there!