Landscaping Services in Lawrence, Kansas
A professionally designed and maintained landscape enhances the appearance and value of your home. Successful landscape design is based on the strategic selection and placement of key elements including shade and ornamental trees, shrubs, flower beds, hardscaping, and design features. Our experienced, knowledgeable landscapers and designers will help you choose from a variety of plants that will thrive in various locations around your property based on our Kansas climate, as well as your individual sunlight and soil conditions.
The team of professionals at Lawrence Landscape can help you achieve the look and feel you desire, thanks to our over 30 years of industry experience and dedication to excellence in quality and service. From consultation to completion our focus is on client satisfaction, working to create a sustainable design that will provide you with a lifetime of enjoyment—all within your budget.
Custom Landscaping in Lawrence, Kansas
Whether you are starting from scratch with a new home build, wanting to improve your curb appeal, or looking to enhance the beauty and functionality of your outdoor space, Lawrence Landscape can help with landscape services throughout Lawrence, which include:
Tree and Shrub Planting
In 2001, we determined that the only way to guarantee the quality and sustainability of the trees and shrubs we install was to grow them ourselves. Our 30+ acre tree farm is home to over 7,000 trees and shrubs in various stages of growth, all of which are suitable for the climate in this area. We harvest a selection of trees and shrubs during dormancy and store them in bins for ease of selection, and customers are also welcome to visit the farm and tag their selections out in the field.
No job is too big or too small for Lawrence Landscape. From modest perennials to 2,500 lb. evergreen trees, we have the equipment, experience, and skills needed to complete your Lawrence tree installation professionally and efficiently. The addition of trees and shrubs can add visual interest to landscaping, provide much-needed shade, and help reduce the cost of cooling your home. Our services include supply and installation of the following:
Flower beds
Small perennials
And more!
For tree and shrub planting in Lawrence, contact us online!
Lawn Installation & Maintenance Services

A healthy lawn is the foundation for every great landscape, and our objective is to provide customers with the highest-quality cool and warm grass seeds and sod at competitive prices. Our lawn services include:
Lawn installation
Pest control
Seasonal cleanup
And more!
Outdoor Living Design Services 
In addition to plant and tree life, a variety of hardscaping and design elements can help improve the functionality of your outdoor area and increase your usable living space. Options include:
Patios & Walkways
A professionally installed walkway can help provide definition and safe passage to various locations around your property. Our hardscaping experts can help you choose from a variety of designs and materials to help enhance the beauty and functionality of your outdoor space.
Outdoor Lighting
Maximize your time spent outdoors and increase safety with high-quality outdoor lighting services from Lawrence Landscape. We offer a wide selection of the finest outdoor lighting in the industry and provide expert lighting design, installation, and maintenance throughout Lawrence.
Water & Fire Features
A water feature can evoke a sense of peace and tranquility and serves as a great addition to any landscape design. Our low-maintenance options can be installed without the need for an open pool at the base, making them safer for pets and children.
Enjoy your time with family and friends around a custom-built outdoor fireplace or fire pit from Lawrence Landscape, made from natural or man-made stone or hardscape block.
Schedule Landscaping Services in Lawrence, KS & the Surrounding Areas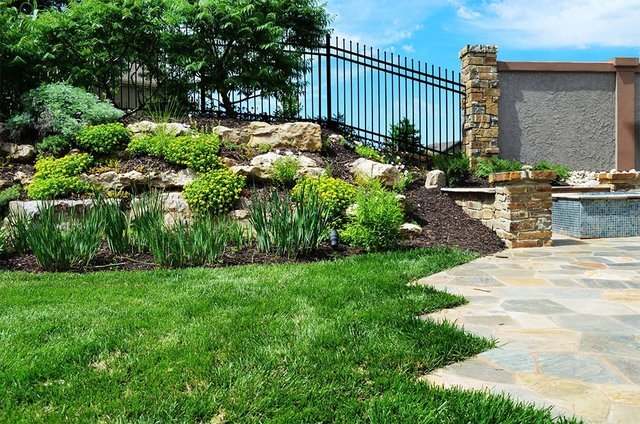 Lawrence Landscape is a full-service landscaping firm boasting 30 years of service in and around the Lawrence, Kansas area. Call us today at 785-843-4370to request a quote for landscaping services in Lawrence!