Stone, Gravel & Mulch for Your Lawrence, KS Landscape
The right landscaping materials can improve the curb appeal of any home, office, or park. Lawrence Landscape is here to make your vision for any outdoor space a reality. We have a wide selection of stone, gravel, and mulch to turn your home into the natural oasis you've always wanted. No landscaping work looks professional without stone, gravel, or mulch in place.
Lawrence Landscape offers a variety of landscaping materials for every space and budget. From stone that gives your home an elevated look to mulch that nurtures your gardens. We've been helping the neighborhoods of Lawrence, Kansas look beautiful since 1988.
Stone Landscaping Materials in Lawrence, KS
Landscape stone is a visually pleasing, durable, versatile addition to any property, with a vast array of sizes, colors, and textures to reflect your personal style. It blends seamlessly with the existing exterior finishes and landscaping. Natural elements add beauty and curb appeal to your home, and unlike wood, metal, or concrete hardscaping, landscaping stone is less slippery and longer-lasting, and it requires less effort to maintain. Whether your reason for adding stone landscaping materials is purely aesthetic or it functions as an aid for drainage or erosion control, our landscape experts can help you find the ideal materials to suit your style, budget, and needs. Our stone landscaping materials can be used in a multitude of applications, including:
Tumbled Cottonwood
Edging/ Wall Stone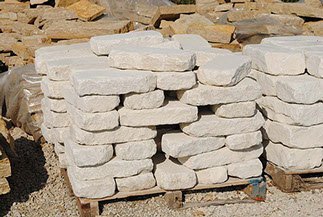 Rocky Mountain
Rose Flagstone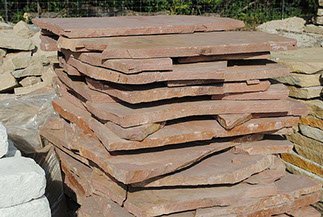 Maple Hill
Rustic Edging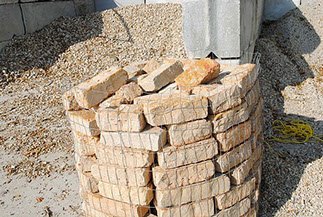 Black Hills
Rustic Flagstone
6 Inch Ledge Rock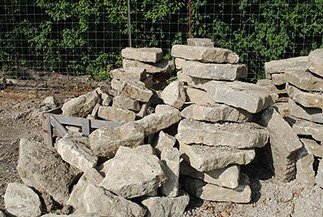 Decorative Gravel in Lawrence, Kansas
Each type of decorative gravel has its own unique properties, and if you are considering adding this element to your landscape, there are a number of factors to consider before making your final selection:
Color – Choose a color that complements existing landscape elements, including paving stones and plant material. Lighter-colored stone can brighten up an area, while darker tones offer high visual contrast for flowers and foliage.
Size – If tracking gravel indoors is a concern, ensure the gravel is large enough to prevent it from catching in shoe treads. Larger pieces are ideal in areas with poor drainage and are less likely to compact when wet.
Mess – In an area such as a pathway or walkway, where gravel may be used in conjunction with paving stones, smaller particles or larger river stones are ideal, as they are more likely to remain in place rather than on top of the pavers.
Usage – Whether the gravel may be walked upon or used to accommodate any type of wheels, choose decorative gravel that compacts more easily, and ensure it is professionally installed to avoid the stones rolling underfoot.
Pea Gravel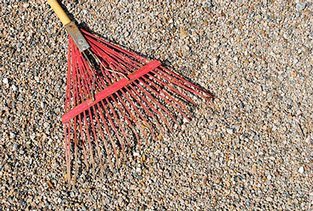 Washed Gravel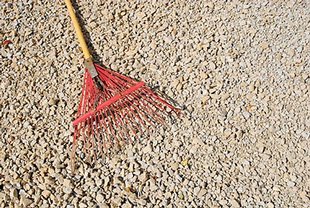 Kansas River Rock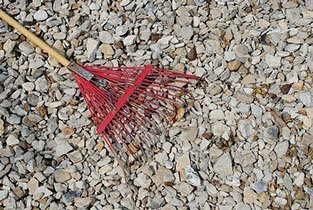 Colorado River Rock 4-8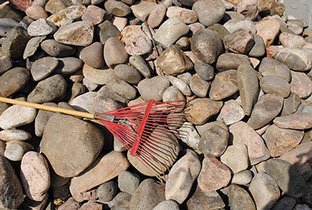 Colorado River Rock 2-4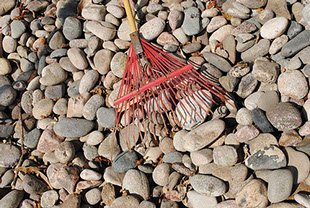 Colorado River Rock 1.5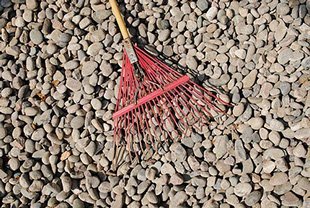 Mulch in Lawrence, KS
A high-quality mulch is a vital addition to any landscape, with a number of important benefits:
Reduces weeds
Retains moisture in the soil
Encourages earthworms
Protects soil from erosion
Regulates ground temperature
Protects root systems
Enhances the appearance of garden beds
And more!
Our landscape professionals will ensure your mulch bed is adequately maintained as needed, using only the finest quality double-ground hardwood or cocoa brown mulch.
Double Ground Hardwood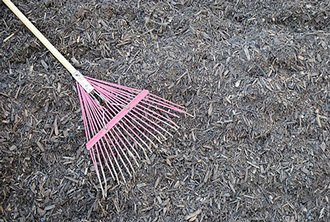 Cocoa Brown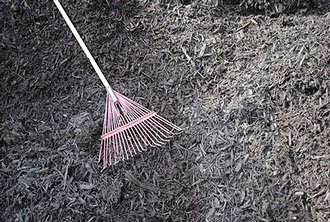 Lawrence Landscape — Your Landscape Experts in Kansas
Here at Lawrence Landscape, we provide superior landscape services to your neighbors and friends in Lawrence, Kansas. By using the highest quality products, the latest technology, and the best people available, we are engaged in the process of continuous improvement.