Visit Our Tree Farm Near Perry, KS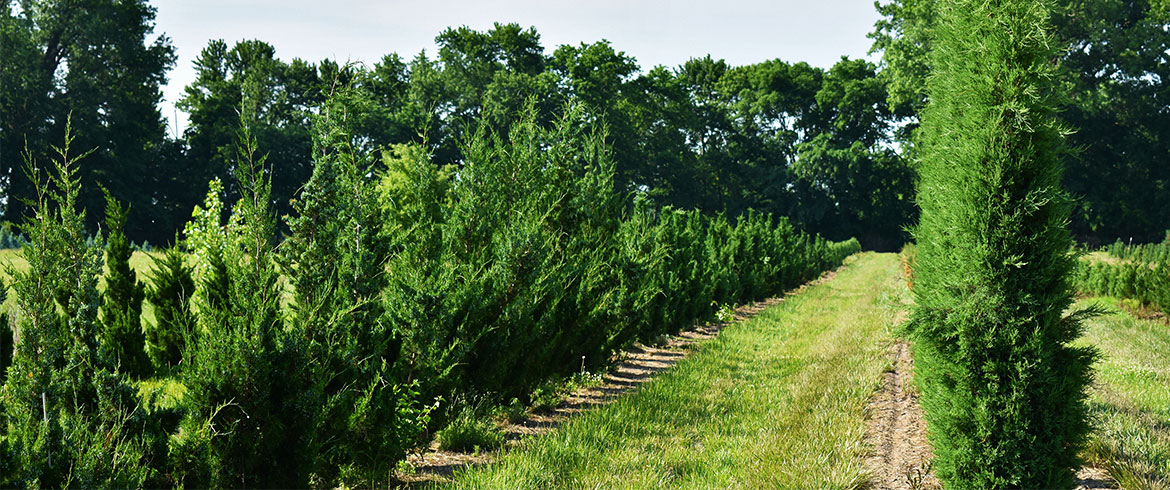 With our historic downtown and rich history, the community of Perry is one where people like to put down roots. Having a tree firmly planted in your yard that you can watch grow over the years is one way to do so. Located in nearby Lawrence, Lawrence Landscape is one of the closest tree farms to Perry, and we are here to help you enjoy all of the benefits of a beautiful tree planted in your yard. We have everything from shade and ornamental trees to conifers and shrubs, many of which are native to Perry, so they will grow beautifully in your yard.
Lawrence Landscape has been growing trees for Perry, KS, homeowners since 2001. We offer trees grown in local soil, so you can be confident that they will grow well in your yard, too. We are passionate about the quality of our trees and the installation we provide because we are local experts in tree growing and transplanting.
Let Lawrence Landscape give you a hand in choosing the right tree for your Perry, KS, home. Give us a call at (785) 843-4370 or contact us online to learn more about our tree farm and how we can help you enjoy the beauty of your Perry, KS, home.
Benefits of Visiting Our Tree Farm
Lawrence Landscape started our field-growing operation in 2001 to supply quality trees for our landscape installation projects and for residents who needed a year-round selection of ornamental trees, shade trees, evergreens, and more. Our tree farm is popular for anyone looking to add already growing trees to their Perry, Topeka, or Lecompton area landscape.
We have a large selection – Come browse over 7,000 trees and shrubs!
Quality is assured – You can view the quality of our plants for yourself.
Our selection is for this climate – We grow only trees and shrubs that are for this area.
Livability is assured – You know that our trees and shrubs will do well in our local climate, because they are already thriving in it. Trees grown in a lighter soil mix or in a protected environment do not perform as well as the trees locally grown in heavier soils and our weather.
Choose from multiple sizes – The deciduous shade and ornamental trees that we harvest range from a 2' to 4' trunk diameter and our conifers range from 4 feet to 8 feet.
Choose between convenience or a wider selection – We harvest during the dormant season and put the trees in bins for your selection, or we welcome you to come out and tag your own in the field!
Customer service – Our friendly staff can help you pick out the best plant life for your landscape and base it upon the maintenance each tree or shrub might need. You just don't get that on the internet!
You can't go wrong by picking out a tree for your Perry home that has been proven to thrive in your own climate! Come browse our tree farm and allow yourself to see, feel, and truly visualize our trees and shrubs in your yard.
Benefits of Trees in Perry, KS
There are many reasons to plant a tree on your property. When you have one, you will enjoy benefits like:
Shade in your yard and over your home
Less risk of erosion
Habitat for birds
Improved landscaping
Increased property value
Lawrence Landscape will help you find an ideal tree for your yard and its particular growing conditions, so you can be confident that it will grow and thrive with the precise soil and climate of your Perry home.
Stop by at our Lawrence, KS, tree farm to shop for beautiful trees and shrubs for our Perry, KS, home.
Our Popular Tree Farm Services in Perry
Since opening our tree farm in 2001, we have taken special care to supply the local community with plants, shrubs, and trees they will enjoy for all occasions. Aside from offering every kind of tree or shrub that you could want to fulfill your landscaping vision, our tree farm also provides the following services:
Mulch
Gravel
Delivery to your home
Shrub planting services
Tree planting services
For tree planting services, mulch, gravel, or tree and shrub delivery in Perry, call the friendly landscapers at Lawrence Landscape! Give us a call at (785) 423-5861 or contact us online!
Get Directions to The Farm
Whether you are coming to our tree farm from Perry or Overland Park, getting here is easy. Come visit us to find the perfect tree for you! The Tree Farm is located at 1193 North 1250 Road in Lawrence, KS. When you see Lawrence Landscape's lime green gates and the trees, you're there! Please note that there is no longer access from K10.
Our Tree Farm Service Area
Our tree farm is located in Lawrence, Kansas and is specially curated to supply only trees and shrubs that are known to perform well in the local climate. Due to our wide selection of over 7,000 trees and shrubs, we are a popular tree farm for residents all around the Lawrence, Kansas area, such as Baldwin City, Eudora, Gardner, Lecompton, Midland, Olathe, Ottawa, Perry, and Tonganoxie.
Why Choose Lawrence Landscape for Trees & Shrubs in Perry, KS?
At Lawrence Landscape, we don't just see a blank canvas when we look at your yard. We see outdoor parties, picnics, water gun fights, Easter egg hunts, and quality time spent on the porch. Your yard is where you spend your outdoor time, whether it's playing ball, gardening, or reading a book. Your landscaping should create an environment that welcomes your friends and family while reflecting your lifestyle.
Because we know how important your yard is, we use the highest quality products and the latest technology to provide what you need in order to achieve your vision. As a customer-oriented landscaping company, we started our tree farm in 2001 to fulfill the needs of Kansas residents for a wide selection of high-quality plants that could live in our climate. Our trees and shrubs are grown to last for years of beauty and enjoyment, so you can create the yard that your family will love.
Visit our tree farm in Lawrence for a wide selection of trees, shrubs, and plants for your Perry home. For more information, call our landscapers at (785) 423-5861 or contact us online!