Top-Rated Landscaping in De Soto, KS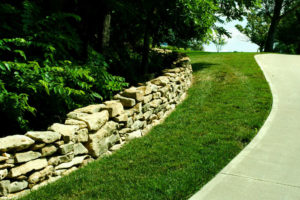 You deserve to enjoy the look of your landscape. Whether at your home or your place of business, rely on true professionals to take the best care possible of your lawn, trees, and bushes.
Lawrence Landscape provides expert landscaping services throughout the De Soto area. We have the tools and talents to make small changes or major overhauls to make your property look its best.
Expert Landscaping Professionals
The professional landscapers at Lawrence Landscaping know their work inside and out. We've provided exceptional lawn and tree care throughout the De Soto, KS, area for over three decades. We use the best tools available to help ensure that every client is happy with our work.
Trust true experts when you need landscaping services in De Soto. Call us at (785) 843-4370 or contact us online to get started.
Commercial & Residential Landscaping & Design
Lawrence Landscape provides both residential and commercial landscaping services. From minor updates to total revamps, count on us for it all! We provide:
Make your commercial space or home look its best all year long. Contact Lawrence Landscape online or call (785) 843-4370 to schedule landscaping and design services.
Lawn & Tree Services in De Soto, KS
Maintaining your lawn and trees is vital to make your property look incredible. Turn to Lawrence Landscape when you need lawn or tree services in De Soto. We have our own tree farm where we grow thousands of trees and shrubs, providing each with intentional care.
We provide exceptional lawn mowing services, too. Our crew can ensure your grass is cut properly and on schedule, so it looks incredible all year.
When you want great plants for your property, look to Lawrence Landscape. Contact us online or call (785) 843-4370 now to schedule lawn or tree services.
Trees and Shrubs
Our team grows healthy trees and shrubs that are made for the Midwest. We can transplant our plants to your property and provide a beautiful layout that makes your property look amazing. Look for us for:
Flower beds
Shrubs
Small perennials
And more!
Lawn Installation & Maintenance
Everybody loves a beautiful lawn in front of their home or business. Look to Lawrence Landscape for:
Professional mowing services
Seasonal cleanup
Lawn treatment and fertilization
Irrigation & Drainage
Water can collect on any property after a storm, causing damage to your lawn or plants. With help from expert landscapers, you can avoid these issues with a proper irrigation and drainage system. Lawrence Landscape can design and install the right irrigation system for your home or business.
Enjoy beautiful trees and a healthy lawn at your home or place of business. Call (785) 843-4370 or speak with our staff online to schedule lawn and tree services in De Soto.
Outdoor Lighting Services in De Soto, KS
Outdoor lights can brighten up your property and make it look incredible. It can also provide safety for those who visit your business at night. Let Lawrence Landscape install outdoor lights at your place of business or your home. We can discuss design options and perform the installation or repairs you need.
Brighten your property with help from experts. Fill out our online form or call (785) 843-4370 to schedule outdoor lighting services.
Patios and Walkways
Outdoor spaces can be easily upgraded with a little bit of concrete. Install a new patio or walkway around your home or business with help from experts. The team at Lawrence Landscape can repair or replace your patio or walkway based on your specific needs and style preferences.
Why Choose Lawrence?
Since 1988, Lawrence Landscape has made lawns and gardens look incredible throughout the De Soto region. Our experts know the ins and outs of making greenery grow as best it can, and we want to make sure your home or business benefits from the great outdoors.
Schedule Lawrence Landscape for all your residential or commercial landscaping needs. Call (785) 843-4370 or contact us online to begin.