Landscaping Services in Gardner, KS
For more than 30 years, our team has proudly offered superior commercial and residential landscaping services throughout the Lawrence area, including in Gardner. We are committed to delivering the highest quality products and latest technology to ensure your complete satisfaction with every project we complete.
Commercial & Residential Landscaping Solutions
Our landscapers have experience serving homes and businesses throughout the Gardner region. We work closely with each customer every step of the way to deliver the expert solutions they seek. Our commercial and residential landscaping services include:
We also specialize in custom outdoor design and installation for residences and commercial properties. Our solutions include:
Lawn & Tree Services in Gardner, KS
From mowing and lawn maintenance to drainage and irrigation, our lawn and tree services cover all your landscaping needs with top-quality products and solutions you can trust. Our 30-acre field growing operation is home to over 7,000 trees and shrubs in various stages of growth, guaranteeing the quality and integrity of the trees and shrubs we install.
Tree & Shrub Planting in Gardner
We harvest our plants during their dormant period, storing them securely in bins to allow for a more manageable selection process for our customers. Clients are also welcome to view our wide variety of plants in the field and tag their own. We have experience installing many different types of trees, shrubs, and plant life, including:
Flower beds
Shrubs
Small perennials
Not only will our team help install trees, shrubs, and plants throughout your property, but we can also help keep them protected with pest and insect treatment.
Detailed Lawn Installation & Maintenance
Nothing adds value and appeal to your property more than a well-manicured lawn. Our lawn mowing, maintenance, and treatment services at Lawrence Landscape will help keep your lawn pristine. We offer:
Professional mowing services
Seasonal cleanup
Irrigation & Drainage
Each landscape is different, demanding its own drainage and irrigation system to ensure it remains in the best condition possible. Whether you're seeking residential or commercial drainage or irrigation services, we can design, install, and maintain the solution you need.

Custom Landscaping Projects in Gardner, KS
Make your dream landscape a reality with our custom landscaping solutions. Our team will help design and install your outdoor oasis from concept to construction. We offer many custom landscaping solutions to residential and commercial property owners throughout Gardner, including:
Outdoor Living Design & Renovation
Become one with the great outdoors and bring your unique vision to life through our outdoor living design and renovation solutions. Our hardscaping and renovation experts can help with:
Arbors and pergolas
Firepits and outdoor fireplaces
Outdoor kitchens
And more!
Start building your outdoor paradise by contacting Lawrence Landscape online or at (785) 843-4370.
Outdoor Lighting Design & Installation
Our exterior lighting design and installation experts can help illuminate your outdoor spaces for enhanced visibility, safety, and security. Offering the highest quality lighting solutions, we are confident that our team can help light the way to an enhanced outdoor lifestyle.
Get started with outdoor lighting design and installation by contacting us online or calling (785) 843-4370.
Custom Patios & Walkways
Create a stunning walkway or patio space unique to your property through our custom patio and walkway solutions. We offer a broad variety of top-quality materials, including:
Natural stone
Colored or stamped concrete
Red clay pavers
And much more!
Why Choose Lawrence Landscape?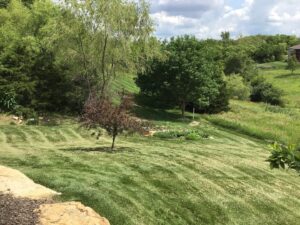 For more than 30 years, Lawrence Landscape has offered superior residential and commercial landscaping solutions that Lawrence residents trust. Our full-service landscaping company is the go-to source for impeccable design, professional installation, and industry-leading maintenance services.
Don't settle for anything less than beautiful when it comes to your landscape. Call (785) 843-4370 to schedule landscaping services in Gardner, KS, today!