Natural Stone Fire Pit Design & Installation in Lawrence, KS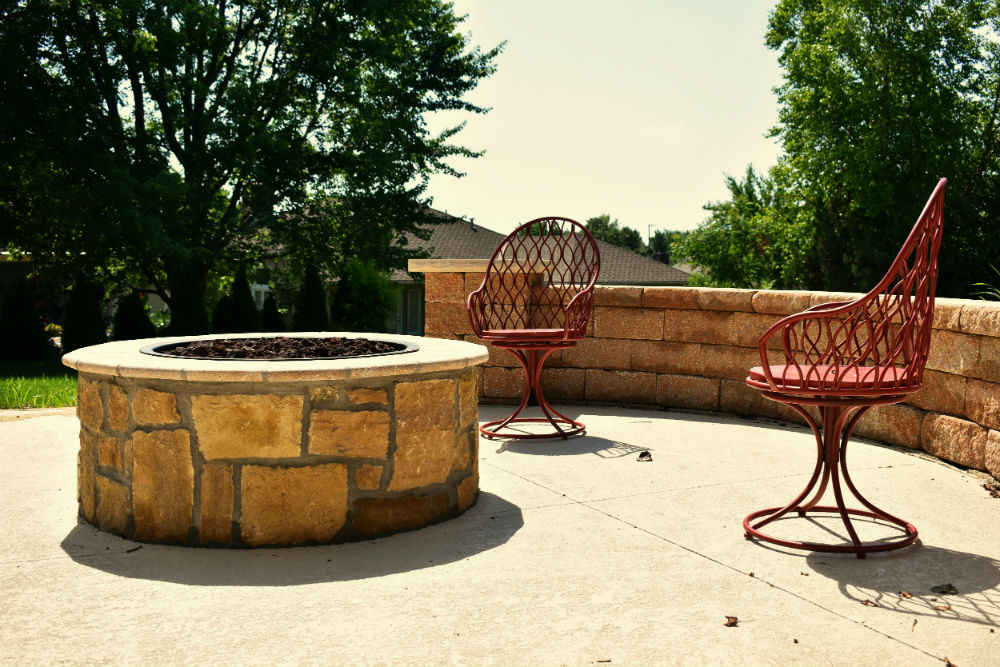 Natural stone fire pits are the perfect place to rest and relax at the end of the day. With a wide array of colors and stones to choose from, it is possible to blend a fire pit seamlessly into the surrounding landscape. They are a focal point that will attract guests throughout the year. They create light for reading your favorite books, warmth for enjoying the company of your closest friends, and heat for cooking up your favorite grilled treats.
Benefits of Natural Stone Fire Pits
Natural stone fire pits are a classy and elegant addition to any landscape. Strong and durable, they will provide long-lasting heat throughout the evening. Their inherent composition means they emit considerably more heat than other options. This makes them perfect for entertaining on a chilly winter night and cooking everything from hot dogs to steaks beneath the summer sky.
Contact Lawrence Landscape at (785) 843-4370 to learn more about the many benefits of a natural stone fire pit. We are happy to answer your questions and show you examples of fire pits our team has installed in Lawrence-area homes.
Frequently Asked Questions About Natural Stone Fire Pits
What Is the Best Natural Stone for Fire Pits?
Flagstone, marble, granite, and slate are well suited for use in fire pits. Sandstone, river rock, and natural rock are not suitable as these can absorb water and explode as they heat up. When using natural stone, it's advisable to install a cover that can help keep the rocks dry and protected.
Is It OK to Put a Fire Pit on Grass?
It is not advisable to put a fire pit on the grass. Even thoroughly soaked, the heat from the fire will dry the grass out and create a fire hazard. Similarly, you want to make sure that you have 20-25 feet of clearance between the fire pit and your home, patio, or deck.
How High Should My Fire Pit Be?
Ideally, you want your fire pit to be set at between 15 and 20 inches above the ground. This helps contain the ashes and embers while also providing a comfortable foot rest for guests seated around the fire.
Does a Stone Fire Pit Need a Liner?
Liners are essential for preventing underground root fires. Whether you choose a stainless steel, carbon steel, concrete, stone, or cast iron liner, it will help provide essential structural support for the fire pit.
We know you have many questions about natural stone fire pits in Kansas. Contact Lawrence Landscape at (785) 843-4370 and our team will answer your questions. It is our pleasure to help you decide which stones and designs are best suited for your needs. 
Schedule Outdoor Living Design Services in Lawrence, KS
Superior service and attention to every detail are the foundation of our business. We utilize the latest technologies and highest-quality products to deliver our clients' dreams. Whether it's an outdoor kitchen, natural stone fire pit, or custom patio, our goal is to create a comfortable and inviting landscape that's ideal for entertaining guests or enjoying a quiet evening at home. When you want the best, you can depend on our full-service, customer-oriented team.
Contact Lawrence Landscape at (785) 843-4370 to schedule a consultation with our expert design team. We are always ready to use our skills to bring your outdoor living dreams to life.